Republicans to Launch Discharge Petition on Anti-BDS Bill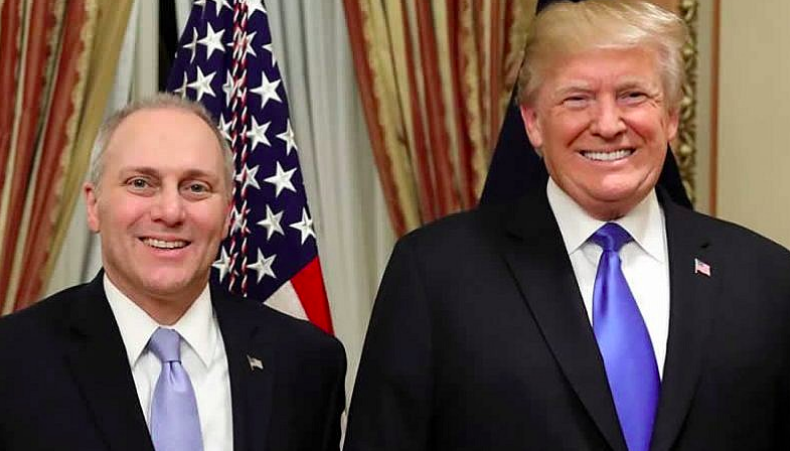 Pictured Above: U.S. President Donald Trump with Congressman and House Majority Whip Steve Scalise, Jan. 30, 2018. Office of Congressman Steve Scalise.
(JNS) House Republican lawmakers are launching a discharge petition to force a vote on the House floor on a Senate bill that would allow state and local governments the right to punish state or local contractors from engaging in boycotting Israel.
The Combating BDS Act has sparked opposition from Democrats and the American Civil Liberties Union, which has said that it would violate the First Amendment.
"The Senate responded quickly and decisively with appropriate legislation to counter the dangerous BDS movement, but Speaker [Nancy] Pelosi has refused to bring this bipartisan bill to the House Floor and House Democrats stood idly by as their colleagues made senseless anti-Semitic remarks," said House Minority Whip Steve Scalise (R-La.) in a statement.
Republicans will need 21 Democrats to reach a majority to force a vote.
House Majority Leader Steny Hoyer told JNS in February that he hopes to move along the bill that, if enacted, also would impose fresh sanctions on Syria and boost security cooperation with Israel and Jordan.
At the 2019 AIPAC Policy Conference last month, Senate Majority Leaders Mitch McConnell urged the House to pass the bill.
"I believe it would pass by a very large bipartisan majority if given a chance for a vote," said McConnell.
"I think the president would sign it," he added.
McConnell came down on Democrats for criticizing the anti-BDS legislation, labeling their aversion as "their allergy to this particular legislation," adding that it's "perplexing."
"Our legislation would help American communities boycott the BDS boycotters," he said. "The outcry from the anti-Israel crowd has apparently paralyzed the House and scared them away from even considering our legislation."
You may also be interested in...