Russian Billionaire Investor Roman Abramovich Granted Israeli Citizenship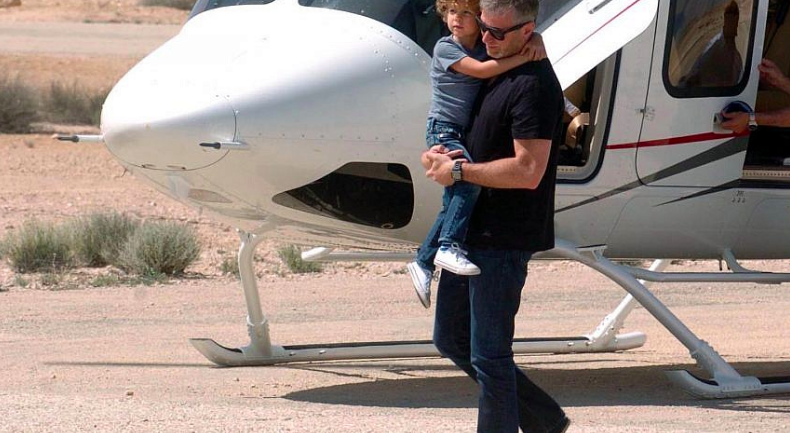 Pictured Above: Carrying one of his children, Russian Jewish billionaire Roman Abramovich arrives at the Beresheet Hotel in Mitzpe Ramon in southern Israel on April 14, 2014, Photo by Flash90.
(JNS) Russian billionaire Roman Abramovich, 51, has received Israeli citizenship on Monday after his visa to the United Kingdom was not renewed.
"Roman Abramovich arrived at the Israeli embassy in Moscow like any other person," an Israeli government spokesperson said. "He filed a request to receive an immigration permit, his documents were checked according to the law of return, and he was indeed found eligible."
As part of Israel's Law of Return, anyone proven to have at least one Jewish grandparent is eligible for citizenship.
Despite mainly residing in the United Kingdom, Abramovich has been a regular visitor to Israel and has invested millions in Israeli high-tech startups. With a net worth of $11 billion, Abramovich instantly became one of the richest Israelis.
The situation regarding Abramovich comes amid growing tensions between Britain and Russia in the wake of the poisoning of ex-Russian spy Sergei Viktorovich Skripal and his daughter. Foreign Secretary Boris Johnson has hinted in recent weeks that the government might take action against Russian oligarchs close to President Vladimir Putin.
As an Israeli citizen, Abramovich, who owns the Chelsea football club, can visit the United Kingdom for up to six months without a visa. But he will not be able to work in Britain if he travels on an Israeli passport.
"Those with Israeli passports are non-visa nationals, which means they do not need a visa to come to the U.K. as a visitor for a maximum period of six months," a spokesman for Prime Minister Theresa May told The Guardian.
You may also be interested in...