SBH Midnight Festival Fundraiser Surpasses Expectations of Both Guests and Planners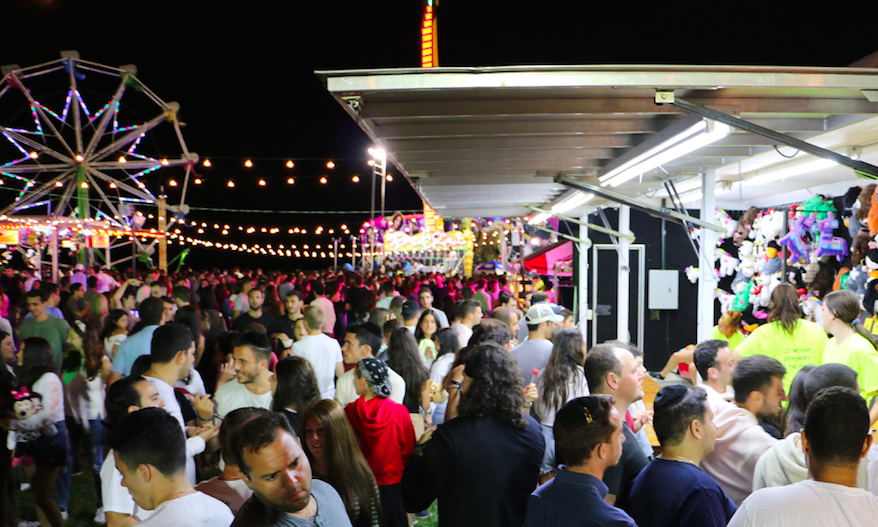 Pictured Above: The large crowd at SBH's Midnight Festival Fundraiser. Credit: Frieda Schweky.
The Sephardic Bikur Holim, more commonly referred to as SBH, is an integral part of our community that works very hard to provide for families in need. SBH has a talent for concocting inventive and engaging methods of doing Hesed and raising money for their cause. One of their most exciting events yet took place at the Deal Casino on July 13, their second annual Midnight Festival.
One year ago, a committee of SBH members sat in a meeting brainstorming ideas for how to attract more young adults to SBH events. Suggestions were being tossed around like drive-in movies or neon themed parties. The meeting eventually evolved into planning a carnival which was attended by 1,200 people in 2018 and raised $69,000 for the organization.
"We really blew it out of the water last year," said Allen Shalam, one of the members of the original committee. "But even now as we develop our identity when it comes to this event, we're always looking for things to add."
This year's Festival, overseen by Shalam, amassed 2,100 people and reportedly exceeded all expectations when it came to fundraising. The Festival featured traditional carnival games such as ring tosses, a water gun race, and a Ferris Wheel.
There were also a few special attractions with a unique SBH-themed twist. One was the "SBH Pledge," where a player would throw a dart at a wall to pop a balloon filled with paint, and the color of the paint corresponded to an act of Hesed the player would pledge to do. These pledges included delivering challah one Friday afternoon, a hospital visit, coming into stock the food pantry, and many more.
Another was a typical "Guess the Candies" game, except the number of candies in the jar, represented how many children received school financial aid from SBH, or how many senior citizens received challah weekly and other related categories. However, the star of the show was the "Instagive" booth.
Instagive, as described by the runner of the booth, is like a yearly subscription to SBH where every month a small donation (which can be decided by the volunteer) will automatically be charged and donated to SBH. Signing up for Instagive also enters you into a monthly raffle where you can win prizes ranging from generous gift cards to a new computer. Signing up for Instagive at the festival entered volunteers into a raffle at the Festival itself as well where a prize was won every half hour. The final prize, given away at 3 a.m. was a Porsche car.
The attendees crowding their way into the carnival were in the highest of spirits and bubbling with energy.
"This is such an amazing night where everyone is here to do Hesed but having fun at the same time," said Joe Natesh, 26. "And they're raising money, but it's not just writing a check and leaving. They're trying to get the people involved."
The Midnight Festival received such an incredibly positive response that it's safe to assume it will be a recurring annual event, returning bigger and better each year.
"When we compare last year to this year, it's just unbelievable," said Shalam. "Even last year we had no clue 1,200 people would show up. Successes like these let us know that we're validated that this is a good idea and that we have to expand, which hopefully we will."
You may also be interested in...