Sephardic.Org's 2018 Mother's Day Gift Guide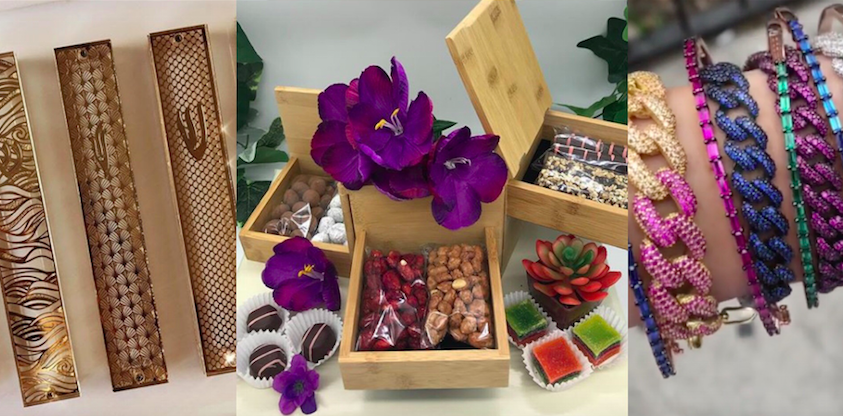 Who can deny that a mother deserves respect, appreciation, and, of course, a gift on Mother's Day? After all, we wouldn't be here if it wasn't for our mothers. We owe our mothers some appreciation for all they do, but choosing a gift for someone as important as her is almost impossible.
Here is some great and unique ideas for what to get your mother this Mother's Day from locally owned community businesses.
1. Karamela Sweets
It's no secret, most moms would love a box of chocolate. Karamela Sweets has taken this a step further, creating gift packages to make any woman swoon!
With dried fruits, nuts, candy and of course chocolate, get your mom something sure to make her smile. Each mothers day package comes with a beautiful silver or lucite platter and even, in some cases, a makeup organizer! This sweet gift will surely be treasured long after the goodies are enjoyed.
Follow @KaramelaSweets on Instagram or give them a call to place your order 732-245-1992.
2. Get Jemmed
Your mom is one of a kind, so why not get her a gift that is too? Design a custom gift just for her with Get Jemmed! A sweatshirt, tee shirt, or hat are all great gifts you can get creative with.
Best part? A customized gift shows you thought of her in advance. We all know, when it comes to the gift, it's the thought and effort that counts!
Follow @get_jemmed on Instagram or give Rachel a call 718-986-1819 to place an order for Mother's Day.
3. Blink Pink Accessories
A beautiful lucite clutch or stylish purse may be just the thing to make mom smile this Mother's Day! A lucite clutch with her initial, a customized hand painted wooden clutch, or a colorful mini backpack are just a few items mom would love. Get her something she'll love to show off to her friends!
Blink Pink has options for all different tastes. Check them out on Instagram @Blink_Pink_Accesories and call or text for orders 347-241-2602.
4. The Modern Mezuzah
The Mezuzah is a necessary and inspirational part of the home. Using materials like lucite, marble, and even 14k gold, these are sure to make a statement in any home.
The Modern Mezuzah carries many styles to choose from to appeal to everyone's taste and budget. These pieces are great for new homes or to replace the old with beautiful new Mezuzot.
Hidur Miztvah, or beautifying a Mitzvah, is just one of the many benefits of having these show-stopping Mezuzot in your home. Any mom would be so grateful to receive one!
Follow @TheModernMezuzah on Instagram or call 732-485-9477 to place your order.
5. Pins and Petalss
Jewelry is a mom's best friend right? So why not give her some on Mother's day! Pins and Petalss has jewelry and accessories your mom will love!
Choose from their vast selection of shiny and colorful things to add some spark to mom's wardrobe. Get her a pair of hoop earrings she'll cherish and wear at each and every special occasion in the foreseeable future!
Follow @PinsandPetalss on Instagram or call 732-245-1992 to place your order.
6. SM Stitches
Is your mom one of the many needlepoint-obsessed women in our community? Maybe she just really loves creating things.
A gift card to SM Stitches is an easy and awesome gift for mom to get a project started. From purses and Challah covers to wallets, clutches, and more. SM Stitches creates fabulous custom canvases to keep mom busy and content for hours on end.
Follow @smstitches on Instagram or call 848-303-4435 to place your order.
You may also be interested in...