Sephardic.Org's Mishloach Manot Guide for Purim 2018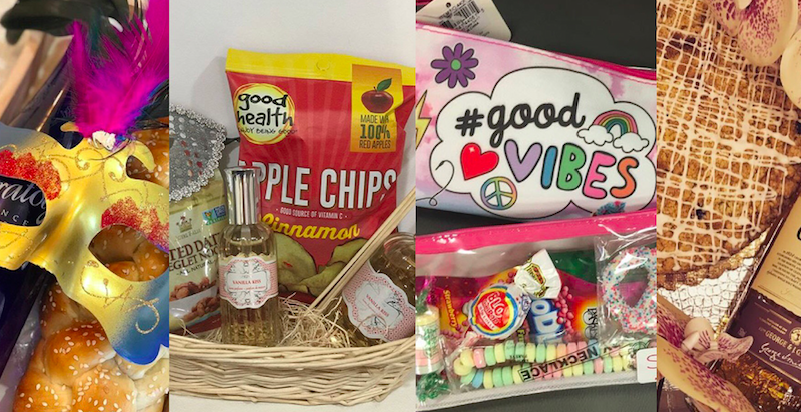 Purim is coming up and as we prepare, some of us might be considering the helpful shortcut of purchasing Mishloach Manot instead of making them on our own. These days, there are many options when it comes to purchasing ready-made Mishloach Manot and we at Sephardic.org understand that pricing out all the vendors and their options can be a tedious task. That's why we took the liberty of doing it for you!
Here is a list of some of the top community vendors and what they're offering this year for their professionally prepared Mishloach Manot packages.
Braids and Bloom
This homemade gift basket business has got you totally covered this Purim with it's creative packages.
Small package includes wine and chocolate covered pretzels in a moss tray delivered for $45.
Medium package includes wine, chocolate covered pretzels and full bouquet delivered for $75.
Large package includes flowers in vase, wine, three mason jars with chocolates and dried mango all placed in a large wood crate delivered for $100.
To see what else they have available this Purim, check them out on instagram @braidsandbloom or call 732-245.0355. Free delivery to Brooklyn and Manhattan NY and $10 delivery for Deal, NJ orders.
Esther Chabot
Want a mishloach with a homemade touch? Look no further then Esther Chabot. Chabot's packages include homemade mazza, challah rings, pickles, tehineh, and more.
Prices range from about $40 to $70 depending on size and what's included.
To see what Chabot has available this holiday, check her out on instagram @Esterychabot or call her at 917-596-1943 to get in your orders!
Candy and Cattle Beef Jerky
Looking for something unique for your foodie friend or relative? Candy and Cattle Beef Jerky Mishloach Manot just might be the thing to make their day!
Two size options are available from Candy and Cattle this holiday season.
Candy and Cattle's medium basket which includes one package of Candy and Cattle beef jerky, half a dozen home baked chocolate chip cookies, and a 22 ML bottle of premium bourbon or whisky is being sold for $30.
The large package, which includes two packs of Candy and Cattle beef jerky, one dozen home baked cookies, and 375 ML bottle of premium bourbon or whisky is being sold for $60.
To see more of what they have to offer, check them out on instagram @CandyandCattle or call 917-699-3017 to place your orders!
The Soap Bar Brooklyn
The Soap Bar located in Brooklyn, NY has ready made baskets at all price ranges for all ages. They also custom make baskets to any individual's liking. During Purim time, Soap Bar starts carrying food at their Brooklyn location in order to customize Purim baskets on the spot for anyone who walks in. You can pick out the product, the food, and the basket and they will wrap it up for you as per your liking
Lavender Jasmine natural hand soap, Sparkling water, & Popcorners wrapped with a matching mask all for $13.
Mirror Tray wrapped with Matching scented diffuser and room spray, Sparkling water and pitted dates with matching mask. All for $25.
Matching diffuser and Room spray, Luxurious hand soap, Sparkling Water, Apple Chips & Kettle Corn. All in huge basket for $40.
To see more of what they have for this Purim, check them out on Instagram @the_soap_bar_bklyn or head into The Soap Bar Brooklyn at 508 Kings Highway Brooklyn, NY 11223. You can also call them at 718-336-1066 to place an order.
Bread and Batter
Bread and Batter has an awesome array of unique Mishloach Manot sure to make an impression on your friends and family. Homemade challah and pareve desserts are some of the items included in their various packages.
Challah & Saratoga water on wooden tray for $16.
Wine & macarons for $25.
Silver tray with two dozen assorted cookies, challah & Saratoga water for $42.
Challah & Hamentashen for $28.
Check them out on instagram @BreadandBatter and call 917-667-9470 to place your order! Delivery to Deal and Brooklyn and also available through KosherValet.com.
Sylvia's Sweet and Stationary Shoppe
There's no sweeter place on the Jersey Shore to get your pre-made Mishloach Manot then at Sylvia's.
Candy filled Tea box for $36.
Chocolate covered pretzels with champagne jelly beans for $12.
Three section candy filled lucite for $25.
Check them out on Instagram @Sylviascandy, head over to the shoppe at 250 Norwood Ave Oakhurst, NJ, or call them 732-531-3433. Great news, Sylvias ships everywhere!
Jacq Snack Attack
Jacqueline Romano is offering extravagant Mishloach Manot this year! Beautifully wrapped with gourmet homemade cakes and a liquor of your choice, the possibilities are endless!
Prices range from $60 to $100.
Check them out on Instagram @Jacqsnackattack and call 646-441-7780 to place your orders.
Frieda Schweky is Sephardic.Org's official community events reporter. For inquiries and to get involved with our site, please contact Frieda via email.
You may also be interested in...