Shavuot Gourmet Bake Sale Raises Funds for SBH Tawil Family Jersey Shore Branch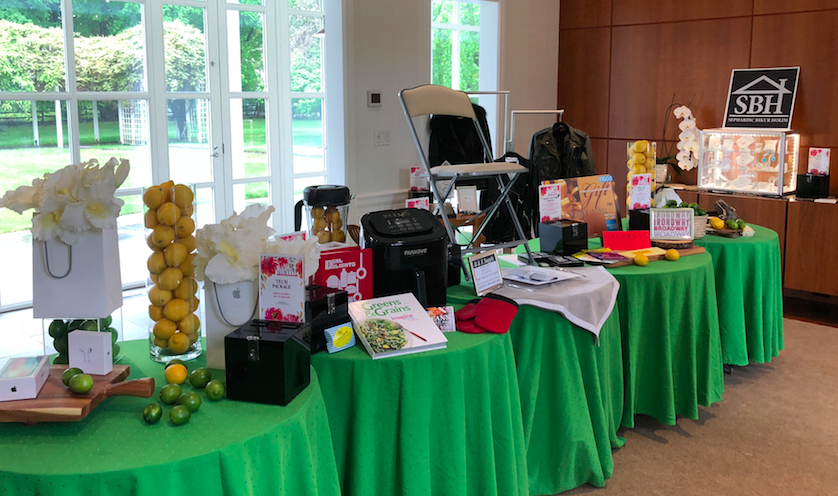 On May 17, a Shavuot Gourmet Bake Sale and Chinese Auction took place in the home of Jennifer and Ike Braka. All proceeds from the event went directly to the Sephardic Bikur Holim Tawil Family Jersey Shore Branch located in Oakhurst, NJ.
It was a very special day for the organization as well as the hundreds of community members who came out to support the worthy cause. The bake sale was successful, selling a majority of the baked goods that were made and donated by generous community members.
The baking committee included Jamie Braha, Gloria Dweck, and Ariana Kaplan. The fundraising committee included Cindy Antebi, Sari Shamah, and Ellen Sutton. Advertising and marketing for the event were executed by Renna Calvo and the beautifully detailed auction was set up by Jessica Esses.
The variety of packages included in the auction were impressive and exciting. One package featured a Gucci belt bag. There was also a jewelry package as well as a Shabbat package that included a Bosch mixer, perfect for preparing Shabbat Challah dough. The kitchen package included a Kitchenaid stand mixer and a Vitamix high powered blender, air fryer, and a cooking lesson with chef Margie Maze.
Another package for the Chinese auction included deluxe folding chairs and bridge tables. A technology package included an iPhone X and Apple Airpods. The sports package included his and hers bicycles and a hoverboard. A $1,000 American Express gift card up for auction as well as a ladies package including a coat, wallet, and sunglasses. There was also a night out in the city package that included tickets to popular Broadway shows, hotel, and dinner gift certificate.
"I was so excited to hear that I won the his and hers Specialized bikes and hoverboard package from the SBH Chinese auction," exclaimed Shelly Forman of her experience at the event. "I'm always happy to give my tzedakah to SBH, especially to their Deal, NJ branch. They truly do so much for our community. The prizes were just an added bonus!"
The guest speaker, Alice Chera, drew out a large crowd of women. Alice Chera CPCC, ACC is a certified life coach and gave an inspirational speech to all of the attendees who were lucky enough to be there.
Sephardic Bikur Holim, as a whole, is an extremely worthy cause, which oversees hundreds of Hesed projects throughout the year. SBH has been a community staple and an invaluable resource since its inception. The Shavuot Gourmet Bake Sale and all those who made it possible successfully raised money for this wonderful organization so they can continue on with their mission of helping those who are in need.
To learn more about the SBH Tawil Family Branch or to donate, click here.
Frieda Schweky is Sephardic.Org's official community events reporter. For inquiries and to get involved with our site, please contact Frieda via email.
You may also be interested in...