Shira and Amichai Ish-Ran Released from the Hospital After Terror Attack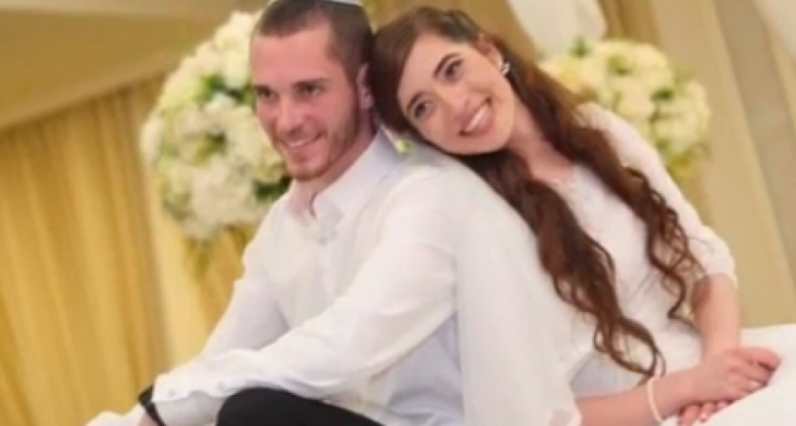 Pictured Above: Wedding photo of Amichai and Shira Ish-Ran, married earlier this year. Both were injured in a drive-by shooting by a Palestinian terrorist at a bus stop outside of the Jewish community of Ofra on Dec. 9, 2018. Courtesy of the family.
(JNS) Shira and Amichai Ish-Ran, who were wounded in a shooting attack outside Ofra in Samaria and lost their newborn baby, were released from Shaarei Zedek Medical Center in Jerusalem on Monday, exactly one month to the day after the attack.
"We are a walking miracle," Shira Ish-Ran told The Jerusalem Post. "I got to the hospital lying down and left walking."
Shira arrived at the hospital in critical condition in 30th week of pregnancy with her first child, after terrorists drove by the bus stop where she and her husband stood and sprayed waiting commuters with bullets. Seven people were injured.
Amichai was shot in the leg, but Shira suffered multiple wounds, including to the abdomen, and underwent an emergency C-section in the hopes of saving her child's life, though doctors were uncertain that she herself would survive.
Shira had an emergency Caesarean section and received multiple blood transfusions.
She recovered, but her newborn son suffered oxygen deprivation and his condition deteriorated. He passed away four days later, shortly after his mother revived and was able to visit him for the first time. The baby underwent a ceremonial circumcision before being buried at the Mount of Olives cemetery in Jerusalem.
The couple named the boy Amiad Yisrael, "my eternal nation Israel."
"It's not clear to me how our rehabilitation has progressed so quickly and in such a good way," Shira told reporters. "Your prayers help, keep praying, I also want to thank the hospital staff, how much they did for us and with sensitivity, it's just unbelievable."

"[I] want to thank the Holy One, blessed be He," she added. "We are a walking miracle … and we are thankful for the miracles every day."
You may also be interested in...