State of Emergency Declared in NY and NJ for 'Bomb Cyclone' Massive Winter Storm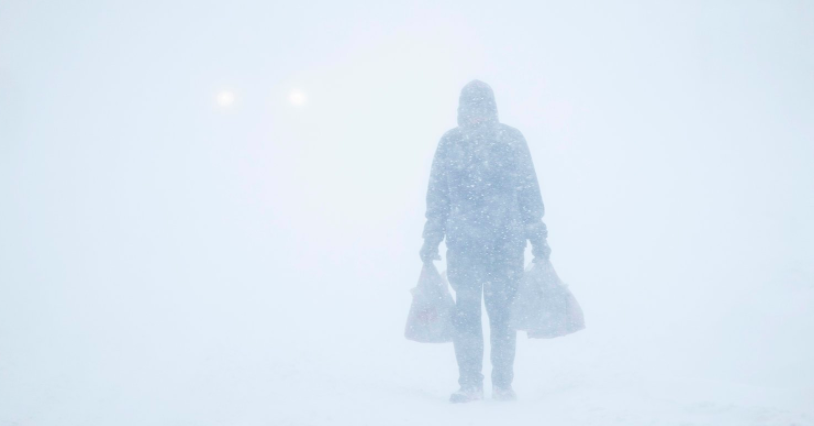 Pictured Above: An individual bracing the strom in Atlantic City, N.J., on Thursday, Jan 4. Credit: Matt Rourke, Associated Press.
Governors Andrew Cuomo and Chris Christie both resorted in declaring a state of emergency for certain parts of NJ and all of NY as Winter Storm Grayson began to strike the North East late last night well into today.
Gov. Christie declared a state of emergency in four counties along the shore line as the blizzard continues to hit the state drastically. The counties currently include Cape May, Atlantic, Ocean, and Monmouth.
"Please stay off the roads and stay sheltered and warm," said Gov. Christie in his tweet.
"Unless it is essential for you to be out on the roads, you should not be," Gov. Cuomo said Thursday morning. "It becomes a question of common sense for New Yorkers."
The emergency declaration means that individuals should stay off the roads as not to interfere with law enforcement and emergency responders. The declaration also allows states to qualify for federal funds that can be used for immediate response and recovery.
All schools and government offices located in NY and parts of NJ have been closed for the day because of the storm as well.
New York City was forecast to receive five to eight inches of snow while neighboring boroughs including Queens and Brooklyn could get up to 10 inches, forecasters said. The National Weather Service early Thursday predicted a wide range of snowfall throughout the state anywhere from 1 inch to up to 18 inches along the Jersey Shore.
The massive storm is hitting the East Coast in rare form, creating snow fall in the Southern area of the country as well. The storm dropped snow in Tallahassee, FL. on Wednesday which was the city's first snow in almost three decades.
Ice, snow, and extremely high winds are coming down hard on the Eastern Seaboard especially hitting the Carolinas to Maine.
Wind gusts of 50 mph to 60 mph are predicted to hit all areas that the National Weather Service has issued blizzard warnings. The Delmarva Peninsula which includes parts of Delaware, Virginia, Maryland, coastal New Jersey, eastern Long Island, New York, and eastern New England have all been issued a blizzard warning currently.
This level of wind is said to be able to take down trees and power lines as well. After the storm is over, the National Weather Service is predicting a wave of extreme cold to hit the Northeast.
It is recommended that everyone within any area that has been issued a blizzard warning remain indoors throughout the duration of the storm until it has passed.
Shelly Forman is currently serving as editor-in-chief of Sephardic.Org. Shelly curates the content that comes through to Sephardic and makes sure that each and every article, video, and image on the site goes along with our amazing mission statement.
You may also be interested in...