Strong Hearts: Community Youth Making a Difference, One Hesed at a Time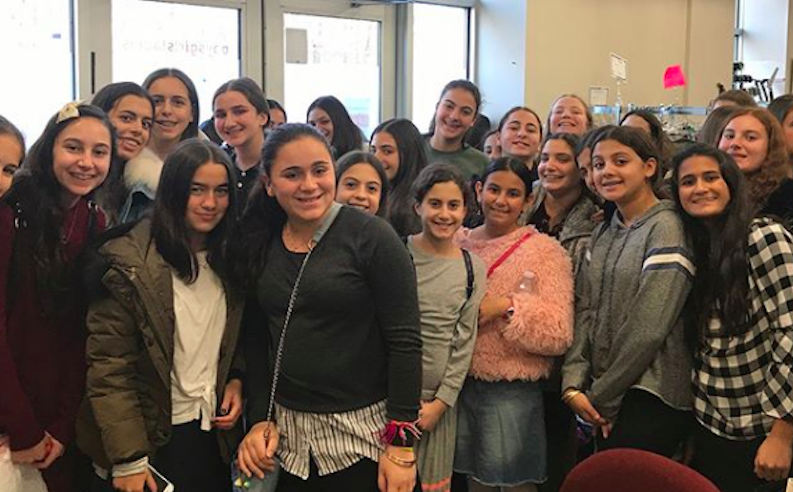 Within the Sephardic Jewish community located throughout the greater Tri-State area, the concept of helping others in need, more commonly known to all as Hesed, is an extremely significant one. Hesed is a notion that is incorporated into many community member's lives on a day-to-day basis, whether one is receiving help themselves or lending a helping hand to others.
Strong Hearts is an organization created by The iDeal Life at Hillel Yeshiva under the guidance of Rabbi Ovadia Alouf that is enabling the importance of hesed to remain alive through our community's youth. It was started in January 2017 as an initiative to bring more hesed into the lives of young community students. Every other week, the girls in Hillel Yeshiva spanning from 7th to 12th grade get together to form Strong Hearts. Around 18 Hillel Yeshiva alumni members come in for this important meeting twice a month to mentor the girls and introduce them to various hesed opportunities.
Strong Hearts 7th-grade girls checking rice for the SBH food pantry.
The overall goal of Strong Hearts is to get the participants in the program to understand the impact that doing acts of hesed can have on all parties involved. Not only can acts of Hesed help others, but it can also help volunteers in many different ways as well. Through their mentors, the girls are able to see, first hand, how people of all ages and from different backgrounds take time out of their daily routines to commit to doing hesed. This enables the girls to truly comprehend how hesed should always be incorporated into their lives no matter what.
Throughout the year, each time the girls meet during school time, they are either learning Torah or doing certain hesed projects, alternating each time. When they do a hesed project, the members of Strong Hearts are always introduced to a new hesed organization. This includes local institutions such as the Sephardic Bikur Holim food pantry and the Morris I Franco Cancer Center or national ones like the American Heart Association. They then get the opportunity to make something to assist in that organization's hesed mission.
Girls putting together care packages for people in need in Puerto Rico.
When Puerto Rico was hit with a huge hurricane this past year, the girls with Strong Hearts got together to make care packages for the hundreds of children who were left destitute after the storm. 500 Strong Hearts care packages were sent to Puerto Rican children in need. When the girls got feedback and saw images of Puerto Rican people receiving their gifts of kindness, they got to see the direct and real impact their actions can have.
On May 22, Strong Hearts invited the mothers and daughters of grades 7 through 12 to join them for a light brunch at the Hillel Yeshiva Founders Hall. This was the second annual commencement event that took place in order to highlight all of the hesed programs that the students have been a part of this past school year.
Packages made by the girls with Strong Hearts for people in need in Puerto Rico.
"The parents were shocked and blown away by all that their children have accomplished with Strong Hearts," said Laurie Mizrachi, Coordinator of the Strong Hearts Program and member of the Hillel Yeshiva Board of Directors.
Over 300 students and parents came out to Tuesday's event. The brunch was supplied by Murray Betesh Catering. Rosie Shammah, a teacher at Hillel Yeshiva who is involved with Strong Hearts, addressed the crowd. A few committee members spoke and then the audience got to hear from a few students themselves about their experiences with Strong Hearts.
People in Puerto Rico receiving the care packages put together by Strong Hearts.
"I'm so appreciative for this experience because I get to do chesed and hang out with my friends," said Lilly Galapo, a 9th-grade HillelYeshiva student, of her experience with the program. "I can't believe I tried so many new things this year like knitting and making pillows for kids in hospitals. I just want to say thank you to Strong Hearts."
Strong Hearts then took the opportunity of having hundreds of people in a room to educate them about a specific organization and do a hesed project together. Project Linus is the organization they chose to highlight and contribute to during the event. This organization makes and distributes 'security blankets' in order to provide a sense of security, love, warmth, and comfort to children who are seriously ill, traumatized, and in need.
Strong Hearts members with their mothers showing off the blanket they made for children in need.
First, the group of mothers and daughters watched an inspirational Oprah Winfrey interview about Project Linus and learned about the significance of giving the gift of a handmade blanket to a child going through tough times. The group then went to work making blankets for this worthy cause. By the end of the day, they managed to construct 30 blankets for children in hospitals.
The event was very successful and achieved all the things the Strong Hearts committee set out to accomplish.
Brave Hearts, a group with the same goals as Strong hearts for male students, is the next initiative that is underway at Hillel Yeshiva. Starting with the 6th and 7th-grade boys this year and expanding into the high school next year, Brave Hearts will give boys the opportunity to do hesed just as Strong Hearts has for the girls.
To learn more about Strong Hearts or to donate, check out their Instagram @StrongHearts18.
Frieda Schweky is Sephardic.Org's official community events reporter. For inquiries and to get involved with our site, please contact Frieda via email.
You may also be interested in...