Taking Back the Quad as Part of Strategic Efforts to Support Israel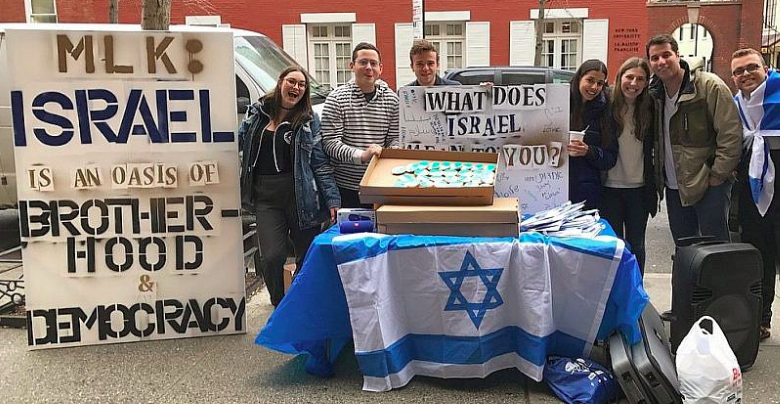 Pictured Above: At New York University, pro-Israel students hold a counter-demonstration that raises awareness about Israeli democracy, diversity and other positive attributes of the Jewish state. Encouraging students to publicly counter anti-Israel protests is part of the Maccabee Task Force's strategy of "taking back the quad." Credit: Maccabee Task Force.
By Jacob Kamaras
(JNS) Describing the group he leads as "probably the most important pro-Israel organization you've never heard of," Maccabee Task Force (MTF) executive director David Brog argues that a speaker here, a table at an activities' fair there won't shift the discourse about Israel on college campuses. Instead, he outlines a detailed, four-pronged strategy to do so.
Launched in 2015 with the funding and vision of philanthropists Dr. Miriam and Sheldon Adelson, MTF worked to combat anti-Semitism and the BDS movement on 40 campuses during the 2017-18 academic year (up from six campuses in the organization's first semester) through providing students with "the strategies and resources they need to tell the truth about Israel."
Aiming to produce 20 to 30 independent events and strategies per year, per campus, MTF ended the year having held 891 pro-Israel events and bringing a total of 746 campus leaders to Israel on 34 separate trips. Anti-Israel student government resolutions passed on only three of the 40 campuses where MTF worked; the measures were voted on at 10 of those campuses after 16 such votes were initially expected.
And now, the organization is doubling its footprint. MTF will operate on 80 campuses during the 2018-19 school year, says Brog. The expansion means that "we'll now be on every campus in America facing a serious BDS and delegitimization challenge," he tells JNS.
'Deeply disturbed by this new anti-Semitism'
MTF's overarching goal is to defeat the BDS movement on university grounds. But what does that really mean?
"It means to combat the delegitimization, the demonization of Israel. BDS is just one tactic—a shorthand for the deeper challenge," says Brog. "What's often the best way to combat the delegitimization of Israel is proactively promoting Israel."
According to Brog, MTF has spent the past three academic years perfecting its action plan for campuses and doing so with "humility"—listening to its partners rather than dictating to them; witnessing and analyzing what works and what doesn't; sharing the effective strategies from campus to campus; and funding its partners' desired courses of action.
The inspiration for combating BDS came from the Adelsons, says Brog, who were "so deeply disturbed by this new anti-Semitism."
"Sheldon Adelson grew up in a time when Jews were physically attacked on the streets of Boston for being Jewish, and it disturbed him deeply that Jews are once again afraid to be publicly Jewish and publicly pro-Israel in America" due to BDS activity on campuses and elsewhere, notes Brog, who adds that the Adelsons wanted "to bring this fighting spirit, the spirit of being proud of Israel to these campuses."
Chanel Shirazi, a junior at George Mason University (GMU), where she is president of the George Mason Hillel student board and vice president of the Israel Student Association, says MTF has helped create an environment in which a BDS resolution hasn't reached the student government. This comes despite GMU hosting the anti-Israel group Students for Justice in Palestine's (SJP) 2016 national conference, and employing "a lot of professors who were very foundational in SJP programs," according to Shirazi.
"The Maccabee Task Force has been able to help us improve our Israel presence on campus and the positivity surrounding Israel, in a way that harmful things which could go through a student government don't reach that point," she tells JNS.
A four-pronged action plan
Each item in MTF's action plan fits into one of four silos.
First, the group's trips to Israel recruit three to five pro-Israel students and 15 to 20 non-Jewish students, the latter "often people who have led the charge for BDS," notes Brog.
"With the delta between the reality of Israel and the lies being told about Israel being as large as it is, a trip to Israel works its inevitable magic," says Brog. "A trip to Israel is transformational. We have yet to have a student come back from this trip and still support BDS."
The MTF Israel trip marked the first time Shirazi visited Israel with non-Jewish students.
"I was able to witness and be a part of this community that truly uncovered Israel as more than just a conflict zone, but as a hub of culture and technological innovation for the world," she says.
Rabbi Ilan Schwartz, assistant director of Ohio State University (OSU) Hillel-Wexner Jewish Student Center, tells JNS that MTF's Israel trip "helped students understand that Israel is not black and white—that there's not just one way to look at what's going on in Israel. [Participants] were comfortable going back to their friends and saying they went to Israel, which demystified it for a lot of people on campus."
Second, MTF trains pro-Israel activists on campus.
"It took us a while to figure out the right way to do it," says Brog. "We found that those students who are potential activists just don't have the time and resources to travel to conferences, so what works best for us is bringing the training to the campus and offering a stipend."
OSU Hillel was able to develop an Israel education and advocacy fellowship thanks to its partnership with MTF, and the initiative enabled that community "to really think big," says Schwartz.
Third, MTF funds coalition-building by identifying a diverse group of partners on campus for its events and other initiatives.
And fourth, the organization has been "taking back the quad," says Brog.
"We've allowed the anti-Israel students to dominate the quad for too long," he says. "They do their 'Israeli Apartheid Week'; they stride the quad like giants and nobody challenges them. We told our partners, 'If they're going to do an anti-Israel hate week, why can't we do a public pro-Israel celebration?' Take that Yom Ha'atzmaut [Israeli Independence Day] celebration you were doing behind the closed doors of Hillel and turn it into a public pro-Israel week."
At GMU, pro-Israel students now counter the "Students Against Israeli Apartheid" group's weeklong display with "Israel Week."
"We don't mention [the anti-Israel side]," says Shirazi. "We like to control the conversation on campus."
MTF, she says, helped George Mason students organize events featuring Arabs and Muslims who spoke about what it's like be Israeli citizens; Israel Defense Forces' lone soldiers; and Palestinian human-rights activist Bassem Eid, who detailed the negative consequences of BDS for Palestinians.
The sum of MTF's four-part strategy, according to Brog, is a "comprehensive enough and deep enough approach to really transform a campus, to change the debate about Israel on campus in a way that I don't think one-off events ever have."
'Able to offer and fund the strategies'
MTF was "very much Miriam and Sheldon Adelson's vision," and they set the first criteria for choosing which campuses to operate on, says Brog.
"They wanted to go to the worst campuses—the campuses facing the most serious BDS and delegitimization of Israel," he says. "It's only because the Adelsons have been willing to invest in this effort and take it so seriously that we're able to offer the strategies and fund the strategies. Others might have identified some strategies, but they're not often able to fund them."
Brog recalls that "a whole lot of people were skeptical about this project when it started, but it's worked."
"People told me, 'Oh, the Adelsons might not be able to influence campuses,' " he says. "But Sheldon and Miriam show up to speak to our students, and the students love it. They see a man and a woman who've devoted themselves to the Jewish people. The students' response is one of appreciation and gratitude, as it should be."
You may also be interested in...