Terror Victim's Funeral Includes Calls to Legalize the Samaria Outpost he Lived in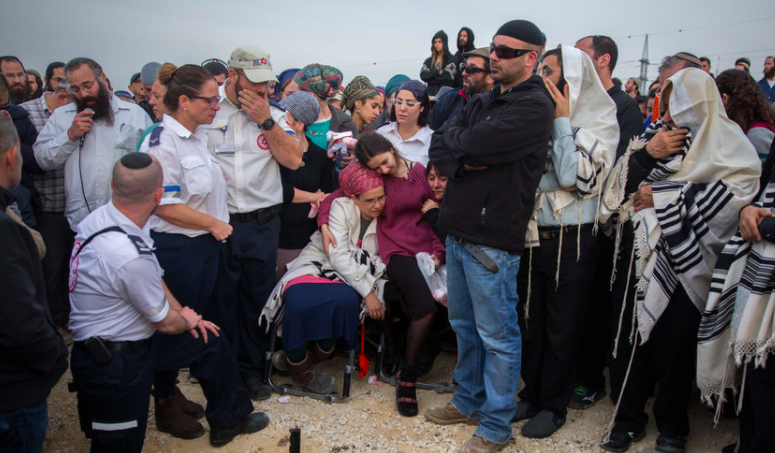 Pictured Above: Friends and family attend the funeral of terror victim Rabbi Raziel Shevah, 35, in the Samaria settlement outpost of Havat Gilad on Jan. 10, 2018. Credit: Miriam Alster/Flash90.
(Israel Hayom/Exclusive to JNS) Hundreds of mourners on Wednesday attended the funeral of Rabbi Raziel Shevah, a resident of the Samaria settlement outpost of Havat Gilad who was killed in a drive-by shooting terror attack near his home Jan. 9.
Shevah, 35, was survived by his wife and six children, the youngest of whom is 8-months-old. He was buried in a cemetery that was freshly established for his funeral.
Yossi Dagan, head of the Samaria Regional Council, said in a eulogy for Shevah that "despicable, sickening murderers, the scourge of the human race, stole a giant soul from us. Rabbi Raziel did not die of cancer, he didn't succumb to influenza. He was murdered because he was a Jew living in the land of Israel."
Dagan urged Israeli Prime Minister Benjamin Netanyahu and Defense Minister Avigdor Lieberman to retroactively legalize Havat Gilad in response to the terror attack that killed Shevah. The outpost, which numbers about 100 residents, is currently classified as illegal because it is situated on land that the Palestinians claim as part of a future Palestinian state. Dagan also called for more housing permits in the area. Israeli Education Minister Naftali Bennett's eulogy for Shevah also included a call to legalize the outpost and step up construction there.
Shevah's brother, Barel, said the terror victim "wanted to see Havat Gilad, which you loved and where you settled your family, evolve, blossom and prosper. But a cursed, lowlife terrorist got in the way of your aspirations."
"We are at war and you are a victim of war," said Samaria Regional Council Chief Rabbi Elyakim Levanon. "This is a war between the sons of darkness and the sons of light. To anyone looking for a sign of light, you, Raziel, are the sign....The government of Israel must rise up against its enemies."
You may also be interested in...