Thousands Attend Morris I Franco Cancer Center's 8th Annual Table Set Go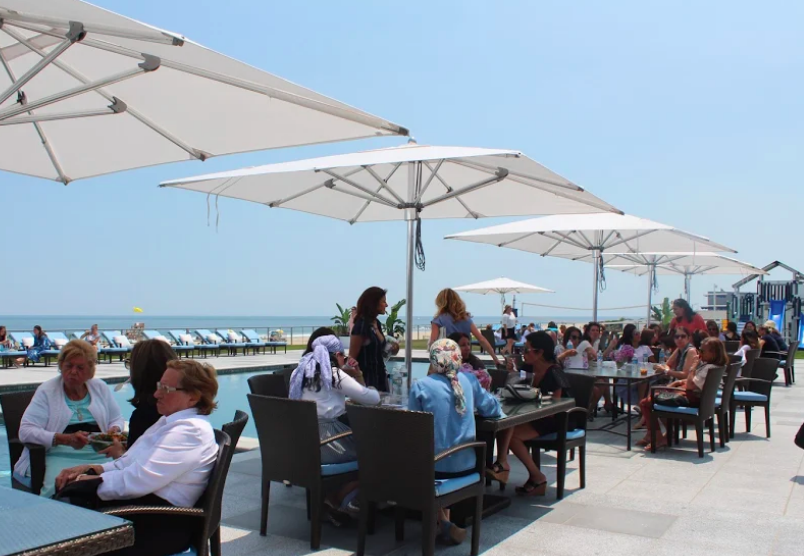 In our community, we are fortunate enough to have the Morris I Franco Cancer Center. The center is a non-profit organization which was founded by Nancy Sutton in 2009. This amazing community resource goes way beyond caring for the physical needs of cancer patients. They work their hardest to make sure the patient is feeling good physically as well as mentally. The center goes out of its way to make patients feel at home whether it be in the center or a hospital bed.
A table decorated by a community member for the event.
Table Set Go is an event that takes place each year to raise awareness and funds for the Morris I Franco Cancer Center. On July 11, crowds of over 1,000 people stopped by to show their support at this important annual event.
The Morris I. Franco Community Cancer Center provides patients with the medical knowledge, hope, and support that will empower them to take an active role in their treatment and healing options while embracing the patient and family members with warm and caring attention. Their services integrate the very latest information and expertise concerning healing modalities to ensure their clients' optimum outcomes.
Jewelry for sale at this year's event.
For this event, intricately designed table settings are displayed for attendees to enjoy. Volunteers, friends, families, and community members create insanely detailed table settings that go towards the theme of the day. Everybody who creates a setting gets extremely involved. Some bring their tables from home, some create their own tables from scratch, and many go crazy with decorative elements.
Another table decorated by a community member going along with the musical theme of the day.
This year's table theme was music genres. They had tables created that were inspired by Pearl Jam, Women Who Rock, Middle Eastern Chaflah, Disco Fever, the Greatest Showman and, Music from the 1940s.
The event also featured a Chinese auction, split the pot, a $52,000 grand raffle, and lunch and coffee was sold throughout the day.
A Chinese auction display at the 8th Annual Table Set Go.
A video about the Cancer center was shown to the crowd in order to educate everyone who attended followed by a panel discussion with members of the cancer center. This year, seven members of the Cancer Center took turns addressing the audience. They each introduced themselves to the audience and relayed the type of cancer they were diagnosed with as well as the date they were diagnosed. They then told their stories and explained the various ways in which the cancer center helped and continues to help them throughout the process.
DJ Cohen spoke about his battle that began in 2015. He explained how every day that he wakes up and gets to spend with his wife and three daughters is such a gift. He also explained why the Cancer Center is such an important resource.
A table setting created by a community member with a Greatest Showman theme.
"You feel so loved and not neglected," expressed DJ Cohen about his positive experience with the Morris I Franco Cancer Center. "They are just constantly calling and helping and showering us with love."
"The Cancer Center was tremendous from day one," explained Sharon Whaba who was diagnosed with cancer in 2017. "Calling just to see how I'm doing, sending challah and flowers each week for Shabbat, and even sending a complete dinner to my home when I was going through chemotherapy were just a few of the examples of how they helped me."
The main goal of the day was to raise awareness for the Cancer Center and to get people to be involved and volunteer for the organization. With the turnout for this year's event, the Morris I Franco Cancer Center achieved their selfless goal. What they do greatly aids in a client's road to recovery and they want the community to understand how important that is.
Another table setting by a community member for Table Set Go.
The event could not have happened without their amazing committee including Audrey Adjmi, Emily Anteby, Renna Bildirici, Claire Cheika, Grace Cohen, Rebecca Cohen, Paulina Dahan, Candy Gabbay, Frieda Laniado, Jill Mamiye, Margie Matthews, Nicole Orfali, Brooke Salama, Grace Sutton, Nancy Sutton, Nina Tawil and Sophia Zeitouni.
For more information or to donate to the Cancer Center, head to NYcancercenter.org or call 718-787-1800.
You may also be interested in...