Trump Signs Anti-Terrorism Clarification Act into Law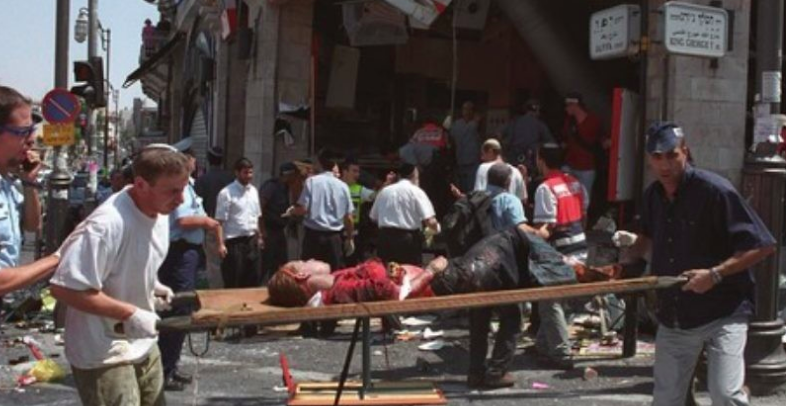 Pictured Above: The suicide bombing at the Sbarro pizzeria in Jerusalem on Aug. 9, 2001, killed 13 Israelis, a pregnant American and one Brazilian. Photo by Flash90.
(JNS) U.S. President Donald Trump signed the bipartisan Anti-Terrorism Clarification Act into law on Wednesday, providing protections for American victims of international terrorism.
The measure "allows certain assets that are seized or frozen by the United States to be used to satisfy judgments against a terrorist party for claims based on an act of terrorism," according to a White House statement.
In the Senate, it was co-sponsored by Sens. Bill Nelson (D-Fla.), Marco Rubio (R-Fla.), Sheldon Whitehouse (D-R.I.), Richard Blumenthal (D-Conn.), Thom Tillis (R-N.C.), Christopher Coons (D-Del.), John Cornyn (R-Texas), Ted Cruz (R-Texas), Orrin Hatch (R-Utah), John Kennedy (R-La.) and John Boozman (R-Ark.).
In the House, it was co-sponsored by Reps. Jerrold Nadler (D-N.Y.), Bill Posey (R-Fla.), Kathleen Rice (D-N.Y.), Chris Smith (R-N.J.), Ted Deutch (D-Fla.), Matt Gaetz (R-Fla.) and John Rutherford (R-Fla.)
"The history of Palestinian and Iranian terrorism against Americans is extensive, going decades and ranging from hijackings to suicide-bombings and assassinations," Cruz said in a statement. "For too long, American citizens have been disgracefully denied justice. This bill will ensure that American victims of terrorism are empowered to secure accountability from terrorists and their supporters."
Cruz added that "recent flawed court decisions have called into question the Anti-Terrorism Act's continued ability to hold terrorists or their supporters accountable in U.S. courts."
You may also be interested in...