Trump Tells Macron he Will Withdraw from Iran Nuclear Deal, Impose New Sanctions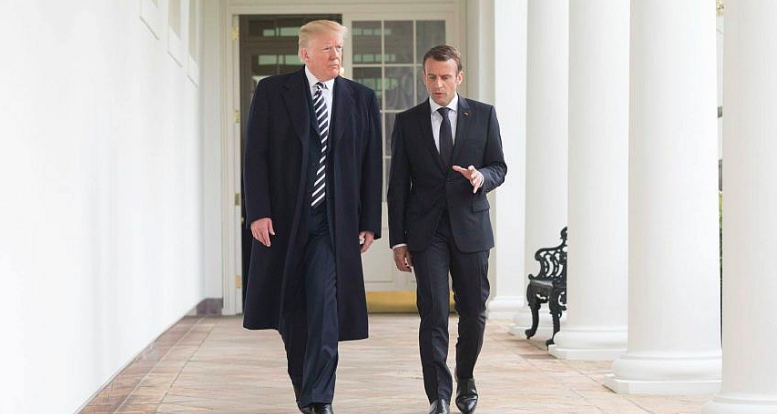 Pictured Above: U.S. President Donald Trump and French President Emmanuel Macron at the White House on April 24, 2018. Credit: White House Photo by Shealah Craighead.
(JNS) U.S. President Donald Trump has reportedly told French President Emmanuel Macron on Tuesday morning that he plans to fully withdraw from the 2015 Iranian nuclear deal.
According to a person briefed on the conversation, Trump plans to reinstate all sanctions it had waived as part of the nuclear deal, as well impose additional economic penalties on the Islamic Republic, The New York Times reported.
Another person familiar with the negotiations over the accord said that the talks collapsed over Trump's "insistence that sharp limits be kept on Iran's nuclear fuel production after 2030," according to the Times.
Trump is expected to publicly announce his plans for the deal at 2 p.m. from the White House.
While the president will likely announce his decision to withdraw, the sanctions could take several months to go into effect, leaving open the possibility of further negotiations, CNN reported.
On Jan. 12, Trump outlined his intentions to "fix the terrible flaws" of the Iran nuclear deal, giving U.S. and European negotiators a 120-day timetable to implement the changes, which include allowing inspections on military sites, an end to sunset clauses and addressing Iran's testing of ballistic missiles.
But it appears that the American and European negotiators have been unable to make the changes to the deal, while the other key signatories—Iran, Russia and China—are opposed to any alterations.
In recent weeks, Trump has been visited by Macron and German Chancellor Angela Merkel, who both lobbied the U.S. leader to remain in the deal. At the same time, Israeli Prime Minister Benjamin Netanyahu, a longtime opponent of the agreement, gave a public presentation last week that detailed new Israeli intelligence outlining Iran's covert attempts at developing a nuclear arsenal.
Following the presentation, Trump tweeted that he was "100 percent right" about Iran's intentions.
You may also be interested in...