Tunisian Parliamentarian Tears Israeli Flag in Televised Address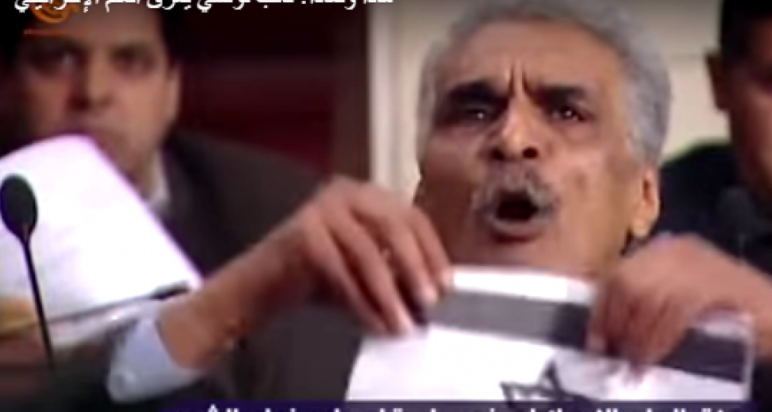 Pictured Above: Tunisian parliamentarian Ammar Amroussia tears an Israeli flag on state television. Photo: YouTube screen capture.
(JNS) A Tunisian legislator tore an Israeli flag during a parliament session while promoting a proposed bill to criminalize relations with Israel, the Associated Press reported Tuesday.

Legislators sitting in the government's opposition had previously proposed the bill that would make attempts to normalize relations with Israel illegal.
Debate on the bill was suspended indefinitely because parliament officials did not consider the law a priority. To protest the delay, opposition lawmaker Ammar Amroussia tore a paper with the Israeli flag printed on it at the parliament's podium, while calling for a vote on the bill. The incident was carried on state television.

Moderate Islamist party Ennahdha, which is part of the governing coalition, warned such a law could hurt Tunisia's relations with western nations and international organizations.

Tunisia, like most Arab countries, does not have diplomatic relations with Israel. In the late 1990s Tunisia and Israel briefly opened relations within specific interest sections, but Tunisia suspended relations in 2000 during the Second Intifada.

In 2014, Tunisia's tourism minister Amel Karboul was nearly forced to resign for traveling to Israel in 2006 to participate in a U.N. training program for Palestinian Arab youths. Karboul and another minister similarly faced censure later that year after being accused of promoting "normalization" with Israel.
Last year, Tunisia banned the film "Wonder Woman" which stars Israeli actress Gal Gadot, because Gadot had defended Israel's 2014 Operation Protective Edge in the Gaza Strip on Facebook.
You may also be interested in...