UN Exhibit in New York Shows Fire Damage in Israel from Incendiary Kites and Balloons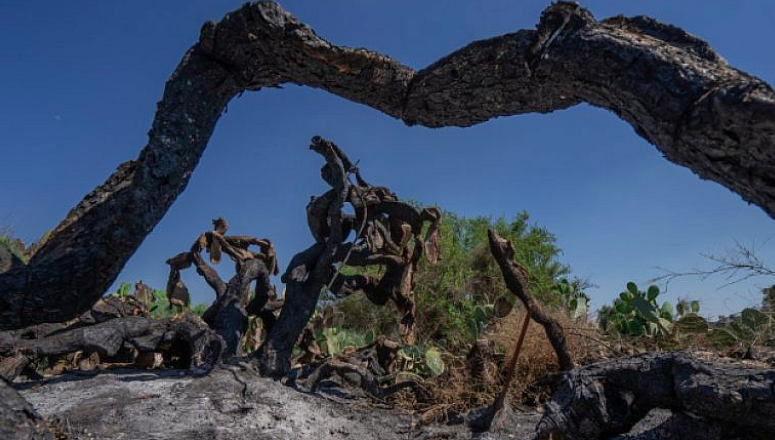 Pictured Above: View from the scorched Be'eri forest in southern Israel, caused by the many airborne firebombs launched by Gazans, many of them children and teens, into Israel. July 20, 2018. Photo by Yaniv Nadav/Flash90.
(JNS) An exhibition featured at the U.N. headquarters in New York this week will show viewers the damage that Gazan terror kites and flammable balloons have caused inside Israel.
An initiative of Yesh Atid Party Knesset member Haim Jelin, the former head of the Eshkol Regional Council, the exhibit contains before and after photos of nature reserves, fields and agricultural lands before and after being attacked by Gazans, who have launched hundreds of flying arson weapons into Israel.
The collection was curated by photographer Udi Israel and displayed for ambassadors and diplomats from around the world.
"The destructive fire terrorism not only threatens the lives of Israeli citizens but destroys the entire ecological system in the south and causes irrevocable environmental damage," said Israel's Ambassador to the United Nations Danny Danon. "Hamas's cruelty and cynicism, turning playthings into deadly weapons, knows no bounds."
Danon submitted an official complaint three weeks ago to Amina J. Mohammed, the current Deputy Secretary-General of the United Nations and a former Minister of Environment of Nigeria, asking her to condemn Hamas's ecological terrorism, which has burned approximately 7,400 acres (or 11.5 square miles) of agricultural lands.
You may also be interested in...