US Negotiation Team Heads to Mideast to Push Peace Plan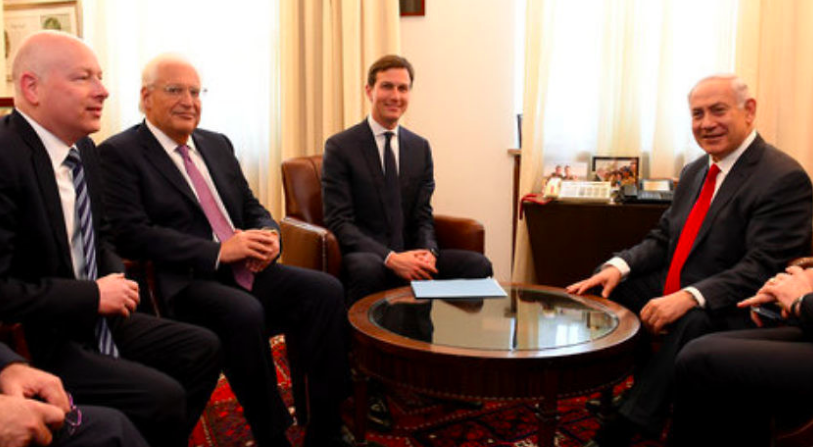 Pictured Above: Israeli Prime Minister Benjamin Netanyahu (right) meets in Jerusalem with U.S. President Donald Trump's international negotiations representative Jason Greenblatt (left), U.S. Ambassador to Israel David Friedman (second from left) and Trump's son-in-law and adviser Jared Kushner to discuss the peace process in June 2017. Credit: Matty Stern/U.S. Embassy Tel Aviv.
(JNS) U.S. Middle East envoy Jason Greenblatt and White House special adviser Jared Kushner will arrive in Israel as part of a Middle East tour next week to discuss previously undisclosed details of a peace plan being promoted by U.S. President Donald Trump.
The delegation is also expected to visit Egypt and Saudi Arabia. The trip may be further expanded to include additional countries.
Ahead of the trip, U.S. Ambassador to Israel David Friedman traveled to Washington early in the week to help finalize the plan along with Kushner and Greenblatt.
While the Trump administration is viewed favorably among Israelis, due to America's recognition of Jerusalem as Israel's capital, the moving of the U.S. embassy in May and the cancellation of the JCPOA Iran nuclear deal, the administration has lost credibility within the Palestinian Authority.
P.A. leader Mahmoud Abbas has refused to take part in any peace initiatives led by Trump and has cut off all formal contact with the administration, including a refusal to meet with U.S. Vice President Mike Pence in January. Recently, Greenblatt and top Palestinian negotiator Saeb Erekat engaged in a war of words, with Erekat accusing Greenblatt of promoting Israeli policy.
The American tour will also focus on easing the humanitarian situation in Gaza. Israel, Egypt and the international community provide relief aid to the region, yet Hamas, which governs Gaza, often misappropriates funds and supplies for terror activity. During recent protests, terrorists similarly attacked infrastructure that provides Gazans with basic resources, including electricity and natural gas.
You may also be interested in...