Viral Document Reports CIA Collaborating with Abbas-Controlled PA Security on Local Surveillance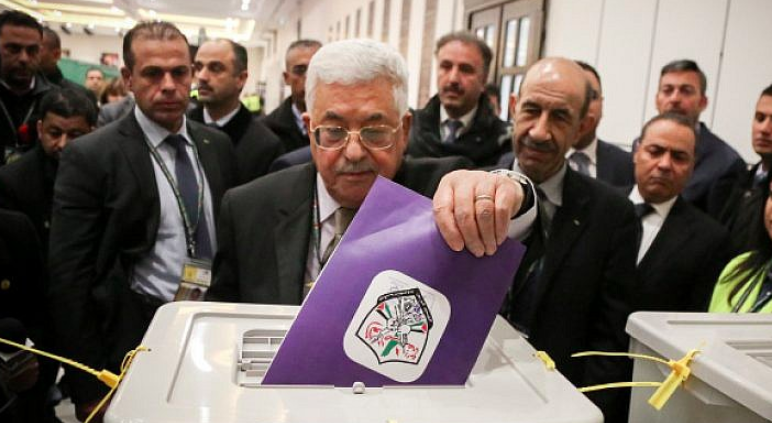 Pictured Above: Palestinian president Mahmud Abbas casts a vote for members of the Fatah party's ruling bodies at the Muqataa, the Palestinian Authority headquarters, in the West Bank city of Ramallah on December 03, 2016. Photo by FLASH90.
(JNS) Two former Palestinian Authority (PA) officials are suing the PA after an anonymous whistleblower revealed that they and other influential Palestinians were targeted during a large-scale wiretapping operation supervised by the United States Central Intelligence Agency (CIA).
Tawfiq Tirawi, the PA intelligence chief from 1994 to 2008 and an outspoken opponent of PA president Mahmoud Abbas, and Jawad Obeidat, head of the PA bar association, are among thousands of Palestinians whose phone lines were tapped, according to a 37-page anonymous document being circulated virally amongst Palestinians on social media.
The document accuses Abbas-controlled security services of approaching the CIA to establish a joint electronic surveillance unit in 2013. Thousands of prominent Palestinians were surveilled including judges, lawyers, public figures, political allies of Abbas, senior members of the Hamas and Islamic Jihad terror organizations, and the family of jailed terrorist and local Arab hero Marwan Barghouti.
The document's author claims to be a member of the spying unit who recently quit over opposition to policies of the PA government, including intelligence-sharing with the United States.
The report reveals that equipment for the surveillance operation was provided by ISS World, a company based in Virginia.
Adnan Damiri, the PA spokesman of the security services, dismissed the document Monday as "nonsense." The CIA declined comment.
You may also be interested in...