When the IDF Lone Soldier Experience Becomes a Family Affair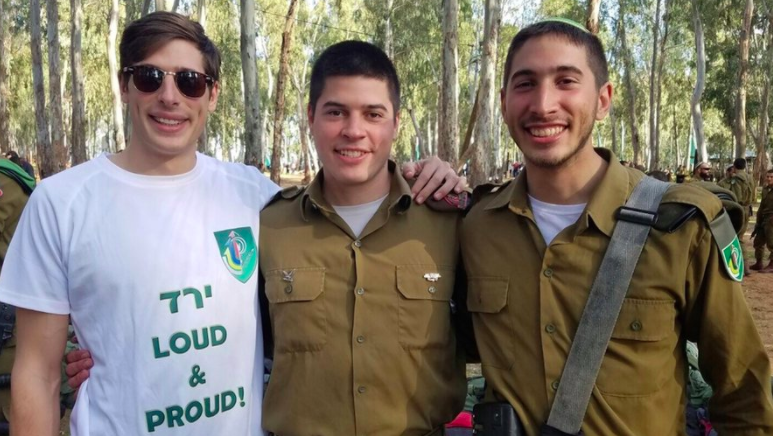 Pictured Above: From left to right, brothers Adam, Eitan and Yered Stufflebeam, who have all served as IDF lone soldiers. Credit: Courtesy Stufflebeam family.
By Deborah Fineblum/JNS
Unlike the 18-year-old in the next bunk, nobody is drafting or otherwise forcing the enlistment of the IDF's American, French, British, Canadian, Swiss, South African, Australian, Peruvian and Filipino lone soldiers.
So why would 7,200 young Jews from across the globe sign up for several years of hard labor, the world's toughest commanders and less-than-gourmet food—not to mention the possibility of danger—all delivered in a foreign language?
"A lot of people pity us, thinking we're all alone here," says former lone soldier Haviva Yanover, a native of New York. "But to be able to serve like this, to show your love and support of the Jewish people and Israel this way, I knew if I didn't do this now I may never do it and I would always regret not having this chance."
Fifteen future IDF lone soldiers arrived in Israel during the final week of 2017 aboard a flight chartered by the Nefesh B'Nefesh aliyah agency.
For many, the lone soldier experience is a family affair. Stacie Stufflebeam of Pittsburgh spoke with JNS shortly after she dropped her four sons off at the airport for their return flight to Israel. One of her sons is in the army, two have completed their active service and are studying at university, and the youngest will be drafted in the coming months.
If one would have predicted five years ago that so many of her kids would serve in the IDF, Stufflebeam says with a laugh that she "would have said, 'not happening.' We raised them to love Israel, but they've gone so much further."
Linda Flaster, who formerly lived in Phoenix and now resides in Lancaster, Pa., has seen five of her six children make aliyah and four—including their only daughter—become lone soldiers. The children were raised in what Flaster calls a "basic Conservative home" and attended public schools. Now, the mother visits Israel often and tries to never miss an IDF tekes (ceremony).
"If our children had not gone this route, our lives would have been a lot easier but less meaningful," she says about the dozen years that one or more of her kids have been lone soldiers.
A Florida retirement is most likely not in the cards for Flaster and her husband, Murray.
"We have no choice. Our kids and our grandkids are in Israel. That's where we have to be," she says. For now, she adds, "being a lone soldier mom is so much easier with cell phones."
But one former lone soldier mom recalls the three-week period when her son wasn't allowed to use his phone. In 2008, Baila Brown held her breath as her son Josh's unit was sent into Gaza. Josh had just started his tour of duty when his mother made aliyah from Sharon, Mass., meaning he was no longer a "lone" soldier since he had a family member in Israel. Baila says that by living in the Jewish state, she could "connect with the other mothers who understood what I was going through. And my daughter could bring [Josh] brownies. It was good for all of us."
For the majority of lone soldiers who don't have a hot meal and clean sheets waiting for them, they're given an extra day a month for errands; a month to go home and be with their families; and enough extra money in their paycheck to pay for food, rent, appliances and all the other amenities other soldiers get from their families. They are assigned an "adoptive family" to welcome them with food, hot showers and laundry, as well as to share Shabbat and holidays with. There are now two centers dedicated to the needs of lone soldiers, and numerous houses across the country where they can let their hair down and be kids again.
"The centers are a home away from home," says Ari Kalker, 33, a New Yorker who served in Lebanon and runs housing for the Jerusalem-based Lone Soldier Center named in memory of his friend, former American-born IDF soldier Michael Levin. The center welcomes more than 3,500 lone soldiers annually.
Lone soldiers are labor-intensive for the IDF but are ultimately a "win" for Israel, Kalker maintains.
"The army gives them extra support, but in return the country gets a core of highly motivated young people, many of them winding up as officers," he says. Meanwhile, the 35 percent of lone soldiers who opt to return to their native countries "become Israel's best advocates, especially on campus," he adds.
Lone soldiering is a bridge that can help span differences in culture and language, says Sgt. Yered Stufflebeam, Stacie's son, who at 21 is learning how to handle a rifle while his American friends are choosing courses for next semester.
"I thought I had a pretty good level of Hebrew, but in basic training they talk really fast," Yered says. "I'll never forget the day we were out on the shooting range. The sergeant was giving directions, and I had almost no idea what he was telling us to do."
"These kids reach a level of maturity that American kids just don't," says Stacie Stufflebeam. "And, even though my kids willtell you I'm a worrier, the bottom line is I know what they're doing is important and that they're well-trained. It can be a helpless feeling, but you can't worry all the time. And our guys have amazing supportive adoptive families who adore them."
Having seen all three of his daughters step up to defend Israel, Haviva Yanover's father, Rabbi Ari Korenblit, is filled equally with pride and "parental concern."
"There is such a powerful sense of fulfillment, and still the reaction of a parent whose child is potentially in harm's way," Korenblit says. "What helps me sleep at night is faith."
Haviva's mother, Diane Reik, says she is "fiercely proud" of her three daughters "for their dedication and the strength in their inner core. But that doesn't diminish the fact that I miss them terribly. We raised them for this, but there's no mother who won't admit it's hard."
Stufflebeam reflects that her four sons "speak the same language now, and I don't just mean Hebrew. They share a closeness now that goes beyond being brothers to doing something together that they so strongly believe in."
You may also be interested in...