5th Annual Evening of the Arts at the Yeshiva of Flatbush Deemed a Success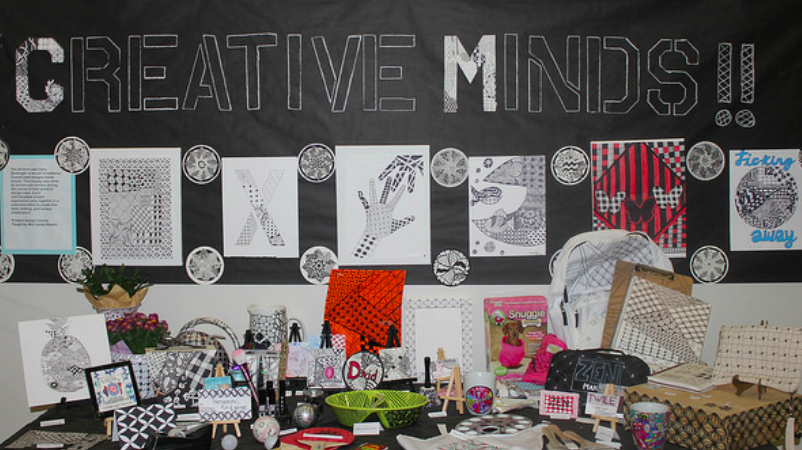 Within our society, visual and performing arts is an extremely important outlet that is invaluable to each individual's everyday lives. Without being aware of it, we are perpetually surrounded by art and utilize it on a perpetual basis. Because of the importance of art, we must do everything we can to encourage the youth of our community to showcase their artistic abilities.
On May 16, the Yeshivah of Flatbush Joel Braverman High School held its 5th annual Evening of The Arts. The event showcases the extraordinary talents of the students and faculty of Flatbush Yeshiva in the visual and performing arts.
The lobby and student lounge of the school were set up as art galleries that displayed graphic design, photography, jewelry design, studio art, and pattern and product design. A lovely collation of sushi, fruit platters, and desserts was enjoyed by approximately 300 students, parents, teachers, alumni, and friends who attended the event.
"We are so proud of all the students who participated as well as the incredible arts faculty," said Rachel Winkler, Program coordinator.
This year, the program honored the 70th anniversary of Medinat Yisrael. The cafe styled Laniado Gym featured a variety of vocal selections, classical piano, modern instrumental works, and drama performances that fully reflected the importance of the arts as well as the range of creative outlets and opportunities in the high school. The closing choir's rendition of the Yachad Melody was dedicated to choir director, Brian Gelfand, who is leaving the Yeshivah faculty after 11 years.
To see learn more about the Yeshiva of Flatbush and their arts programs, click here.
Frieda Schweky is Sephardic.Org's official community events reporter. For inquiries and to get involved with our site, please contact Frieda via email.
You may also be interested in...