A Whopping $10K Raised for Widows and Orphans of Fallen IDF Soldiers by Selfless Community Bar Mitzvah Boy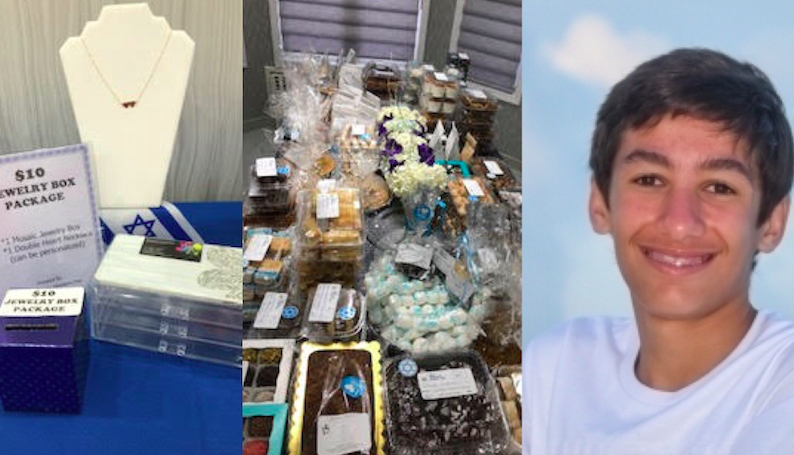 Pictured Above from Left to Right: a display of the jewelry package at the Chinese auction event put together by Joshua Romano, a table filled with bake sale goods sold at the event, and the selfless Bar Mitzvah boy, Joshua Romano.
When the time comes to have a Bar Mitzvah, it is a very significant moment in a young Jewish boy's life. Some boys can get lost in the vanity of it all. A large influx of gifts, a big party, photo shoots, and everything else that goes on can really shift one's focus from the concepts that truly matter at this important milestone in life. However, while some boys are focused on the material objects, others choose to mark the time by reflecting and taking the opportunity to give back.
On June 10, a Chinese auction and bake sale took place in the home of 12-year-old Joshua Romano.
"In honor of my Bar Mitzvah, I am organizing this bake sale to raise money for orphaned Bar Mitzvah boys in Israel," read the flyer for the event made by young Romano.
Joshua was involved in not only the inception of the event but in all aspects of planning as well. This included choosing the charity, designing the flyer, getting donations for the auction, mailing out flyers, and much more. The colorful flyer was put in the Image Magazine, mailed out to Joshua's grade in Flatbush Yeshiva, posted around the entire school, and circulated on social media.
The Israeli Defense Force Widows and Orphans Organization (IDFWO) is the charity Romano chose to support. IDFWO was established in 1991 as the sole charity recognized by the State of Israel to work with the widows and orphans of fallen heroes of the IDF and Israel's security forces. IDFWO is there for this vulnerable group from the moment these terrible tragedies occur and continuously throughout their lives by means of emotional support, financial aid, educational and social programs and more. The organization has a program specifically for orphaned Bar Mitzvah boys and this is where all of the money raised from Romano's event will be donated.
The fundraiser was dedicated in loving memory of Karen Benor, a young community member, Joshua's cousin, who recently lost her battle with cancer and passed away.
The bake sale featured a wide variety of baked goods like cupcakes, large cakes, cookies, assorted nuts, date balls, and more. The Chinese auction was comprised of about 20 different packages. Hundreds of neighbors, friends, family, schoolmates, and general community members came out to enjoy the event and support the cause.
"It was an amazing day, it was really phenomenal," said Leat Romano, Joshua's mother, about the success of the fundraiser. "We had a great turn out, I'm so thankful to everyone who baked, my son's school for their help and support, everyone who donated, as well as friends and family who helped out."
The fundraising goal was to raise $5,000 for the IDFWO, however, Romano managed to raise over double that with a whopping $10,000 thus far calculated from the event profits. That money will, no doubt, affect many lives of orphaned Bar Mitzvah boys in our homeland.
For more information on the IDFWO or to donate, click here.
Frieda Schweky is Sephardic.Org's official community events reporter. For inquiries and to get involved with our site, please contact Frieda via email.
You may also be interested in...