Arabic may no Longer Share Equal Official Status with Hebrew in Bill Amendment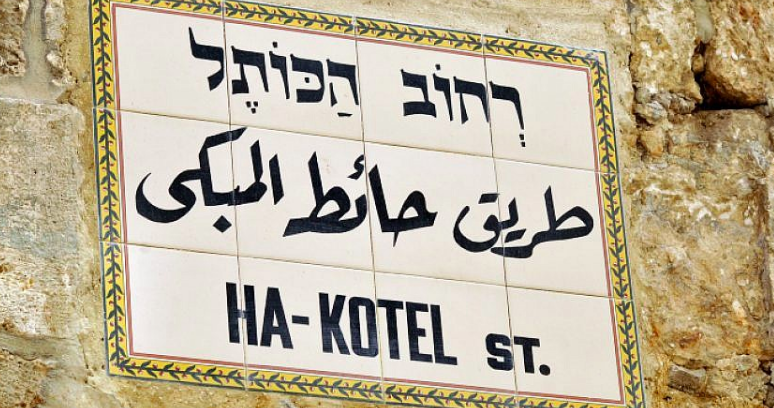 Pictured Above: Ha-Kotel street sign in the Jewish Quarter of Jerusalem's Old City, written in Hebrew, Arabic and English, May 29 2011. Photo by Serge Attal/Flash90.
(JNS) The Arabic language may no longer be an official language of Israel on par with Hebrew under an amended version of the controversial nationality bill.
The bill seeks to enshrine into law the status of Israel as the state of the Jewish people.
Under the previous version of the bill, Arabic would receive a special status, with state services made available in the language. With the new version, the official status of Arabic will be determined in separate legislation.
Minister of Tourism Yariv Levin altered the bill's language due to a concern that if Arabic were an official language, the Supreme Court would expand on the distinction to mandate that all official documents, signage and other state business be conducted in Arabic, as well as Hebrew.
However, he noted that the new language of the bill does not destroy the significance of Arabic, but rather makes it the second official language of Israel, with its usage to be determined in separate legislation that may reduce the amount of government documents mandated to be written in Arabic.
Additional elements of the bill include the denoting of Independence Day as an "official" Israeli holiday, the allowance for the creation of communities based around a religious or nationalistic ideals, and will legally enshrine Israel's state symbols, capital city, official language (Hebrew) and the right of return for Diaspora Jews, as well as the democratic system of governance.
Israeli Prime Minister Benjamin Netanyahu plans to bring the bill to a vote in the Knesset for its second and third readings next week, at which time it will need a 61 MK majority to pass.
According to an interview with Levin in Ynet news, the nationality bill "comes to restore order. In the early days of the state, there was no [need for a] nationality bill, because the courts, mainly the Supreme Court, knew their place, [and] understood the essence of the state and the delicate balance between Jewish and democratic."
"In recent years, the country has turned into a nation of all its people, all of its infiltrators," said Levin. "Everything that has to do with Jewish life became some sort of issue of inequality and discrimination. This is what the legislation seeks to fix."
Meretz Party leader Tamar Zandberg called the bill "racist and unnecessary legislation," and called on the coalition member Kulanu Party not to "take on another black mark in the history books."
You may also be interested in...