At Jerusalem Embassy Gala in Washington, Pence Declares Trump 'Greatest Defender of Israel Ever' in White House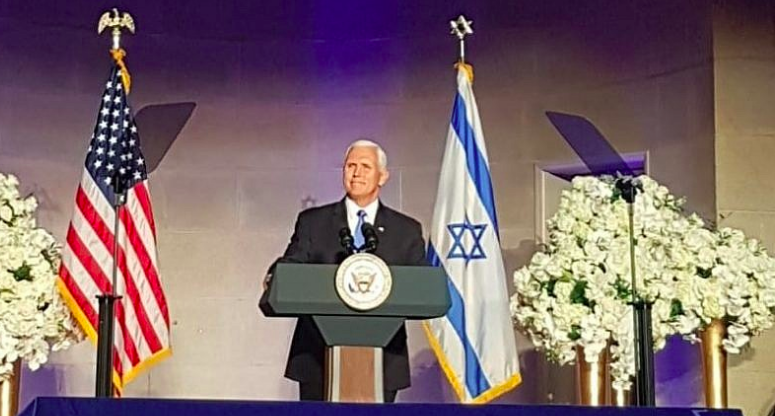 Pictured Above: Vice President Mike Pence at the celebration marking the opening of the U.S. embassy in Jerusalem and Israel's 70th anniversary in Washington, D.C. on May 14, 2018. Credit: Israeli Embassy.
(JNS) U.S. Vice President Mike Pence said on Monday that President Donald Trump is the "greatest defender of the Jewish state to ever to sit in the Oval Office" at a celebration of the opening of the U.S. embassy in Jerusalem in Washington, D.C.
"Just as President Truman made history then Trump has made history now—thanks to his leadership, almost exactly 70 years to the minute since the rebirth of the Jewish state, the American Embassy officially opened in Jerusalem, the capital of the State of Israel," Pence declared at the event that also celebrated Israel's 70 anniversary, which fell on May 14 on the secular calendar.
Pence's speech came several hours after the United States officially moved its embassy from Tel Aviv to Jerusalem, a key promise made by Trump and Pence.
Pence added: "By finally recognizing Jerusalem as Israel's capital, the United States has chosen fact over fiction—and fact is the only true foundation for a just and lasting peace."
The vice president, who did not address the violence along the border between Israel and Gaza on Monday, said the Trump administration was "prepared to support a peace agreement in any way we can."
"We believe that peace is possible. … And while any peace will undoubtedly require compromise, under President Trump the United States will never compromise the safety and security of the State of Israel."
Israeli ambassador Ron Dermer also spoke at the event, saying the embassy move was "one small step for peace and a one larger leap for truth."
"U.S. and Israel both share a sense of destiny," he said, "unlike other countries."
You may also be interested in...