Community Business Highlight: Posh Designs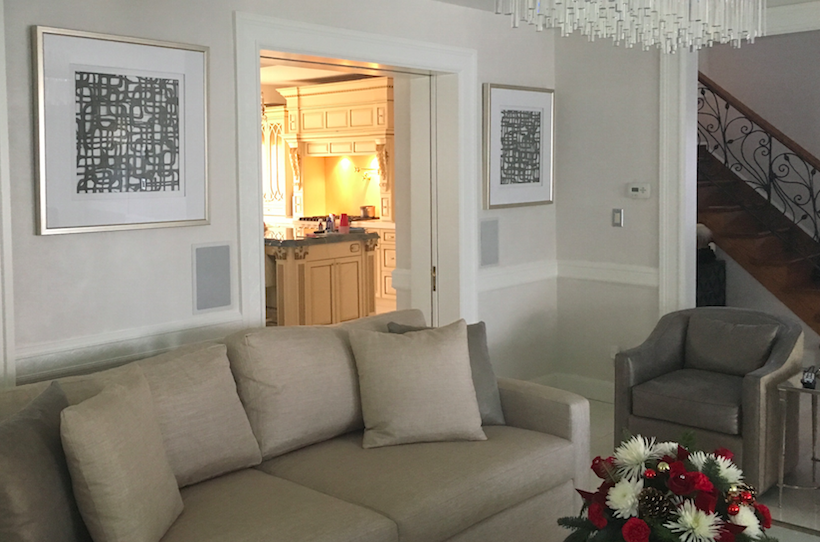 According to popular belief, hiring an interior decorator can seem intimidating emotionally and financially. Not only that, but many believe that once an interior decorator is hired, their own unique vision for their project may be compromised.
According to Marlene Garda of Posh Designs, these misconceptions couldn't be any further from the truth. Garda's Posh Designs exists as a one stop shop for all your interior decorating needs. Garda works with budgets of all sizes, and she really listens to her clients. Garda's motto is "No job is too big or too small!"
A bedroom deigned by Posh Designs.
For over 20 years Marlene's passion has been decorating homes. Well before 2011 when she started her business, she would help her friends shop and research furniture when they got married for their first homes. When Marlene began her business she started out as a party planner. Garda ultimately felt party planning wasn't fulfilling enough and went on to interior decorating, her true passion.
Posh Designs offers many services, including window treatments and wall coverings, custom furniture and upholstery with a wide array of domestic and european fabrics to choose from, ready made furniture, dishes and final touches. Marlene sits with each of her clients and helps them find the best products to suit their needs. Garda also takes her clients shopping to stores and showrooms if need be after she comes to scope out the space she will be designing.
Emily Chemtob contacted Marlene this past Summer to help decorate her dining room. The two hit it off right away and had the bulk of the items for the room picked out within an hour. With Garda's help, Emily completed the job in no time and came in under budget.
"Marlene really listened to what I needed and didn't show me anything that wasn't in my budget. She came with me to showrooms and stores, happily putting in hours for me and never making me feel like I was wasting her time," said Chemtob about her experience with Posh Designs.
A before and after shot of a space designed by Posh Designs.
Emily and Marlene chose everything for the dining room including a 20 foot long table for the large space, chairs, a server, window treatments, dishes, and decor.
"Marlene is witty and fun to be around and i feel as though i made a good friend through this process," Chemtob continued, "Some people are in it for the business and are looking to line their own pockets while looking out for their vendors above their customers. With Marlene it's just the opposite, she becomes an advocate for her clients, ensuring they only get the best of everything they want and need. I cannot say enough good things about this woman and my experience."
Emily has contacted Marlene again for help choosing outdoor furniture, she will continue using Posh Designs for all her decorating needs.
Here are some tips from Marlene Garda, herself, on how to properly decorate any room in your home.
1. The importance of accent pieces.
According to Garda, no room is complete without great accent pieces! when working with a neutral color palette, bright color accents like a beautifully colored vase, a piece of art, or even a statement throw pillow will elevate your design to the next level.
2. Don't forget the windows.
Many people don't realize that window treatments really complete any room. Whether adding brand new custom window treatments or just simple purchasing new shades, dressing your windows is like the icing on the cake to any new design plan.
3. Paint is your best friend.
Garda claims that when working with a tight budget, paint is the best tool to use in order to enhance any space. Using warm colors can give the room a finished look. You can even paint one wall an accent color to add an interesting look to any space.
To learn more about Posh Designs, follow them on Instagram.
Frieda Schweky is Sephardic.Org's official community events reporter. For inquiries and to get involved with our site, please contact Frieda via email.
You may also be interested in...