Community Business Highlight: Urban Pops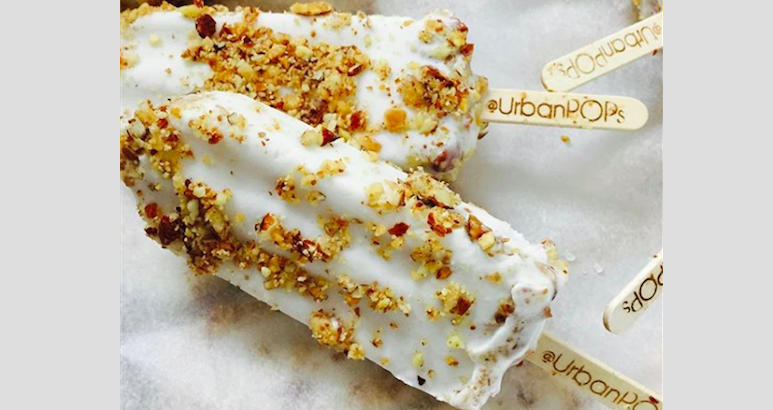 Since its start in 2012, Urban Pops has taken the tri-state area by storm with their hand crafted popsicles made with real ingredients and truly one of a kind flavors. Sophia Cohen, founder of Urban Pops, would make small batches of homemade sorbet in her home for her family simply because she wanted a healthier option for her kids then what was being offered in the grocery stores. When her sister Alexis tried Sophia's unique confections she pushed her to sell them.
Sophia then began to sell her sweet frozen treats out of her home and a few months in, she had the idea of making gourmet popsicles. Before she knew it her pops were a hit. Sophia began pulling all-nighters with her husband, Gary, to keep up with the demand.
Blood Orange flavored popsicle sold at Urban Pops.
Some of the first pop flavors were toasted coconut, lemon mint, tangerine, and chocolate abyss. All of their pops are non GMO, and don't contain ingredients like food coloring or corn syrup so you can feel comfortable feeding them to anyone in your family knowing that they are as healthy as possible.
Sophia and Gary spent the first three years or so of their business preparing pops until all hours of the night. The entrepreneurial couple eventually hustled their way to being the top Parve pop in the area.
The creamy texture of their premium pops without using an ounce of dairy cannot be imitated. They use a coconut milk base and purchase top dollar high quality Madagascar vanilla for their vanilla flavored pops like their popular vanilla brownie popsicle. On Passover, since Kosher for passover coconut milk is not an option, they make their own coconut milk for their pops which results in an even better tasting product!
Cones prepared by Urban Pops for their Vanilla Caramel cone flavored popsicle.
This year, Sophia made an excess of coconut milk and froze it for the Summer months so she would be able to make her coconut bonbon flavored pop and many other unique flavors for the busy Summer months. Many of Urban Pops original flavors feature fruit that they purchase fresh in their appropriate seasons, clean, and blend down into pops.
Some pops like the strawberry shortcake, chocolate RX, Jelly donut, and chocolate custard donut, feature chunks of pastry like cake, brownies, and donuts. All of these pastries are hand baked by Urban Pops with the best ingredients and broken down to be mindfully layered in each pop by hand.
When you bite into an Urban Pop you can really taste for yourself the amount of thought, attention, and care that was put into each recipe.
Many flavors available at Urban Pops.
"There's no feeling comparable to when I'm able to nail a flavor right off the batt since most of them take many trial and error runs to get it perfect," said Sophia Cohen. She never shies away from a flavor too daring or too expensive. The Ferrero Rocher flavor, for example, is a chocolate hazelnut gelato-based pop filled with crunchy toasted hazelnuts and drizzled in Urban Pop's decadent top quality chocolate.
Some of their seasonal options are chocolate dipped apricot, watermelon, pumpkin pie, and many more. Whenever there is a holiday, Urban Pops conveniently sells miniature version of their product so that people can serve them as desserts in their homes.
A display of popsicles at a party catered by Urban Pops.
Sophia is the creative mind behind the 85 spectacular flavors that Urban Pops offers. Sophia also maintains the business with marketing and sales. Gary Cohen, Sophia's husband, left his job to partner with his wife in growing this successful pop business and takes care of the numbers, employees, and other technical aspects of the business.
Strawberry shortcake flavored popsicles sold by Urban Pops.
Together, Sophia and Gary have accomplished many things like opening a large commercial kitchen in Flatbush, buying the appropriate equipment, and hiring a staff of 25 full-time and part-time employees to make and sell the pops. They also have several locations in Brooklyn, NY including Crown Heights, Borough Park, and Flatbush. They also have locations in Deal and Lakewood, NJ. Additionally, Urban Pops delivers to Five Towns and Monsey.
All the pops are Parve (Dairy Free), Yashan, and Pas Yisroel with the OK Kosher hashgacha. Urban Pops works with caterers and party planners to cater any event from birthdays to weddings and more.
When asked what the biggest struggle was in starting a business from scratch, Sophia replied that the struggles are not behind her. Problems and issues pop up every day, each new step in any growing business is a struggle because you never know which is the right step, and none come without risk.
"Be prepared to work and work non-stop," said Sophia when asked what advice she would give to fellow entrepreneurs. "It's not a bad thing but you should be prepared for it and be alright with it, accept it. Also, ride the wave if your having successes. For a long time it was pulling me. You have to go with every new opportunity and enjoy it along the way."
For more dazzling pop images and information on how to get your hands on some, check Urban Pops out on Instagram @urbanpops.
Frieda Schweky is Sephardic.Org's official community events reporter. For inquiries and to get involved with our site, please contact Frieda via email.
You may also be interested in...