IAF Investigation Confirms Crew's Emergency Evacuation of Inoperable F-16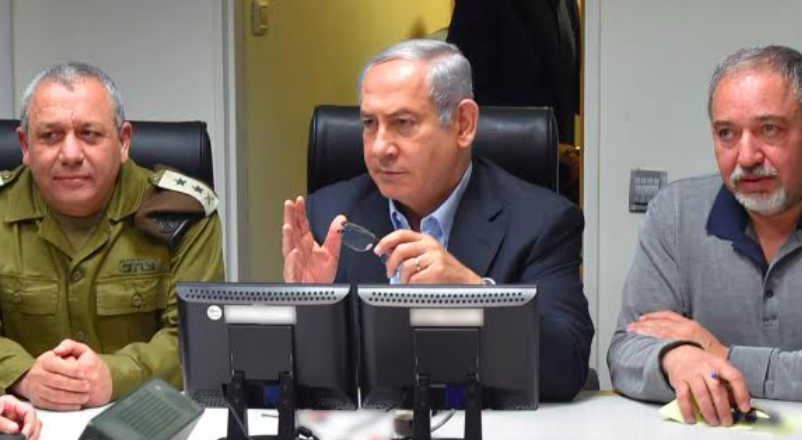 Pictured Above: Prime Minister Benjamin, Defense Minister Avigdor Liberman, and IDF Chief of Staff Gadi Eizenkott, attend a security council meeting at IDF Headquarters, following the crash of an F-16 plane on February 10, 2018. Photo by Ariel Hermony/Ministry of Defense.
(JNS) An Israeli Air Force probe into the downing of an F-16 fighter jet on Saturday confirmed that crew members correctly evacuated their damaged aircraft, while another Israeli plane was narrowly able to evade being shot down by Syrian anti-aircraft missiles.

Eight Israeli fighter jets in two formations retaliated against the Syrian infiltration of an Iranian drone into Israeli airspace early Saturday morning.
During the bombing runs, the F-16s came under heavy Syrian anti-aircraft fire. One missile exploded near one of the planes, rendering the plane inoperable. In a matter of seconds, the pilot and navigator were forced to bail out of the plane before it crashed in northern Israel.
Israel Air Force Commander Major-General Amikam Norkin visited the Maimonides Medical Center in Haifa on Sunday, and confirmed that the pilot's decision to evacuate the plane was completely in-line with IDF protocol. The pilot of the plane suffered serious injuries during the explosion. Following successful surgeries, the pilot's condition was upgraded to moderate, and he is expected to recover. The plane's navigator suffered light injuries and was released from the hospital Sunday.
According to the investigation, the pilot of the lead plane in the formation–also targeted by anti-aircraft missiles–dived just in time to evade the Syrian fire thereby saving his aircraft.
Israel responded to the Syrian counterattack by smashing 12 targets, including two Iranian military bases, three weapons depots, six Syrian military bases and Syria's largest air force base, east of Palmyra, where Israel obliterated 54 runways and a control tower.
You may also be interested in...