Kings Highway Bus Lane Proposal Sparks Protest Amongst Community Members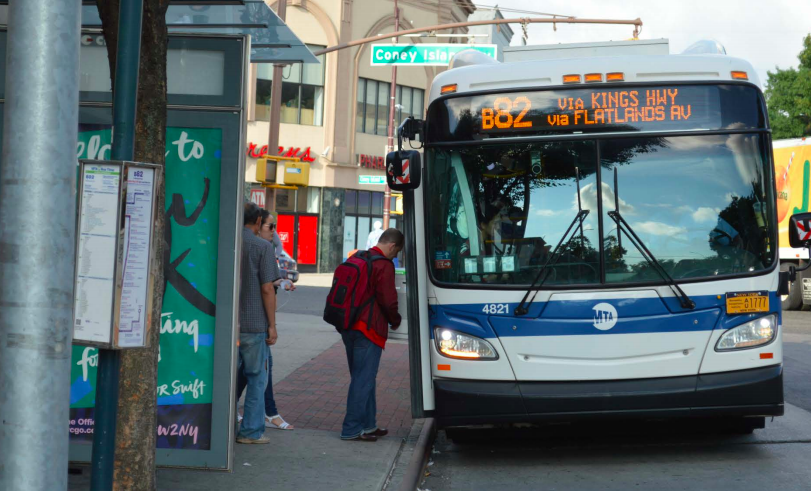 Community leaders as well as elected officials, business owners, and homeowners in the Midwood area of Brooklyn, NY are currently in an uproar over a proposal by the Department of Transportation (DOT) to initiate Selective Bus Service on the B82 bus route.
According to New York City's Select Bus Service (SBS) website, crosstown bus trips in Southern Brooklyn are, "slow and long." Because of this long-standing issue with heavy traffic, the B82 Southern Brooklyn Bus route which includes Kings Highway, Avenue K, and Flatlands Avenue, is now under consideration to be heavily altered.
B82 Southern Brooklyn Select Bus Service project proposal by the NYC Department of Transportation.
Earlier this year, the Department of Transportation initiated plans to install bus-only lanes on Kings Highway between McDonald and Ocean Ave in Brooklyn, NY in order to encourage a, "faster and more reliable bus service," for the 28,000 daily passengers who utilize this line. This would then categorize the B82 line of service to be a Select Bus Service rather than a Limited Bus Service which is what it runs as currently.
If all goes according to the initial plan, the B82 Select Bus Service will begin later this year with implementation of project street signs, SBS stop amenities, and an official launch of the B82 Southern Brooklyn Select Bus Service line. The plan was pitched by the city to Community Board 15's transportation committee in early March of this year.
Local passengers of the B82 line on Kings Highway getting onto the bus.
"Along Kings Highway, buses now average 5 mph or slower from McDonald Avenue to Ocean Avenue (among the slowest speeds in the entire city), making the conversion of the B82 to Select Bus Service a priority," wrote a Department of Transportation spokeswoman in a statement. "SBS will bring shorter travel times and more reliable service along one of Brooklyn's busiest bus routes."
The lanes will be in effect from 7 to 10 am and 4 to 7 pm Monday through Friday.
Despite the benefits this plan may present to the passengers who ride the B82 line on a daily basis, it also presents a huge inconvenience to the local businesses and residential homeowners within the areas in which bus lanes may be implemented.
"This plan will remove over 100 parking spots during peak hours – and local stores will be the ones that suffer, as customers choose to shop elsewhere," said Councilman Chaim Deutsch (D–Sheepshead Bay).
Many local business owners have also spoken out against this plan due to the fear that their customers will no longer be able to park their cars and support their businesses. This has caused many social media-based protests amongst locals to begin including a letter written encouraging people to reach out to Governor Cuomo and address the matter directly.
A letter written out by the Kings Highway Business Association encouraging locals to forward it to Governer Cuomo.
"As you are probably aware, the NYC Dot has proposed having a dedicated bus lane along Kings Highway," stated the author of the letter clearly. "Unfortunately, this would severely impact businesses and retailers who are already struggling."
"Many parking spots would be lost. This would ultimately encourage people to stay away and seek other places to shop."
Because of the backlash the city has received for the B82 Select Bus Service project, there will be an urgent town hall meeting on Monday, April 9 beginning at 6:30 p.m. at the PS 228 Middle School located on Avenue S and West 4th street.
Protests to this proposal are also taking to the streets as well. There is a planned protest scheduled for Sunday, April 15 beginning at 11 a.m. that promises to have politicians in attendance as well.
If you live in an area potentially affected by the B82 Select Bus Service project and want to make a difference, please attend the town hall meeting on April 9 as well as the protest on April 15. To learn more about the overall project and how it may affect you, click here.
Shelly Forman is currently serving as editor-in-chief of Sephardic.Org. Shelly curates the content that comes through to Sephardic and makes sure that each and every article, video, and image on the site goes along with our amazing mission statement.
You may also be interested in...