Life in the IDF for Community Member Albert Maslaton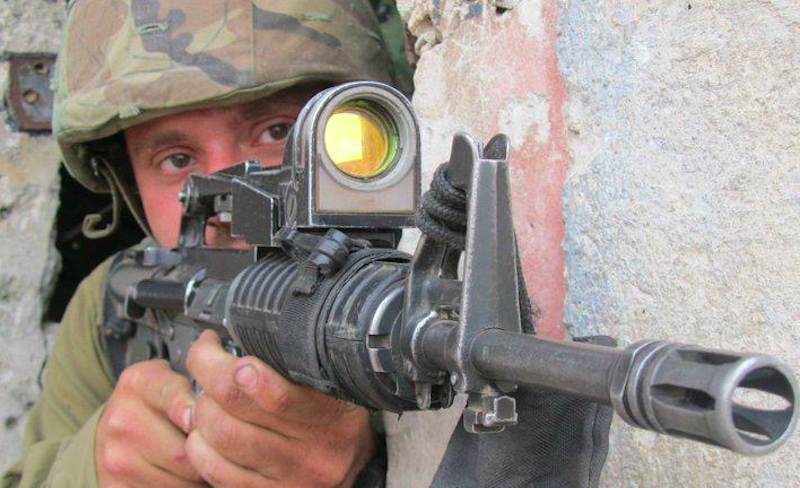 Pictured Above: Albert Maslaton posing with his weapon during his time in the IDF.
Albert Maslaton graduated from Brooklyn College with a degree in Psychology in 2010. The next step on this 21-year-old's path was one less taken by his peers. Maslaton flew to Israel just one month post-graduation and enlisted in the Israeli Defense Force.
Maslaton's father is Lebanese and he served in the Israeli army so, although Albert grew up in Brooklyn, the Zionist spirit was instilled in him from young. On his very first day in the IDF, Albert met Coby Sabbagh, a fellow community member on a similar path. Although they had never met before, it was comforting to know they were not alone. They wound up in different programs but remained in contact for the duration of their service.
Training was unlike anything Albert had experienced in his life. Towards the beginning of training, every move he made was timed. Maslaton and his team were allotted a specific amount of minutes to accomplish each of their duties.
Finding himself in such an environment, Albert was grateful that he enlisted after college and not right out of high school when he was 18. Albert felt that there was a level of maturity one must have to be able take such stringent orders.
The Hebrew language Maslaton learned from his education at Magen David Yeshiva proved sufficient for the most part throughout his time in Israel. One of the most difficult things for Albert, however, was the radio talk. Knowledge of code words as well as a whole different Hebrew lingo was required for this task of covert communications.
According to Albert, Shabbat on base is an experience unlike any other. Soldiers are fed kosher Shabbat meals. By army law, non-kosher food is not permitted on base. Albert knew someone that was placed in army jail for two weeks because he cooked something in the army kitchen on Shabbat which deems the food un-kosher. Also it's forbidden to command soldiers to do any unnecessary work on Shabbat. The soldiers get to relax on Shabbat partly, but also must take shifts guarding the base, the equipment, and, of course, the border.
When considering going to the army Albert was met with the common misconception that he may lose his religion. Maslaton said this couldn't be further from the truth. In fact, keeping kosher was super easy and he was able to pray in a minyan three times a day on a daily basis while serving.
Maslaton served in the Lavi Battalion, Kfir Brigade in a sniper platoon as commander. Prior to this he trained for four months in commander school. Maslaton became second in command of 22 soldiers that made up the sniper platoon. His unit was stationed in different parts of Israel, mostly in the West Bank. Some of Albert's duties included creating and commanding missions, overseeing the patrols, watches, and raids of his subordinate combat soldiers.
After few months of being a commander, Albert went back to training for an additional two months to learn to become a sniper. He then became a sniper for the very team he previously commanded.
When Albert first joined the force, the attitude amongst the new soldiers towards foreigners coming to help out the IDF was that they don't need them and they couldn't understand why anyone would choose this. After a few weeks of seeing how the Americans, Albert in particular, didn't get any special treatment, the vibe towards him changed. Albert gained the respect of his new peers from his determination to succeed.
Each step of the way Albert learned a new set of skills. Training taught him to be more regimented in his life and to use time more wisely. It also taught him how to be organized with time and possessions. Albert learned many skills physically but also learnt valuable social skills that can be used more practically. He learned how to take orders from someone on top of him, even if they didn't seem to make sense. Also with his experience as a commander, Albert learned how to give commands. To address people in an assertive manner while also being understanding of their situation.
"Before the army I was all over the place," said Maslaton. "I was attending college, I wanted to enlist in the army, I attended yeshiva for a bit, I wanted to travel."
It was clear that Albert needed to choose a path and stick to it. Ultimately, he said joining the IDF was the best decision of his life. Albert credits the man he is today to his IDF experience.
He went home to Brooklyn after serving in the IDF for a little over two years. Initially, when Albert left Israel he planned to return to the army. After just a few weeks of being home it was clear to Albert that God had different plans for him.
He met his wife just one month after returning home. Things started falling into place for Albert and he accepted the changes happily as they came. He truly feels that his experience in the IDF prepared him for all that was to come.
Frieda Schweky is Sephardic.Org's official community events reporter. For inquiries and to get involved with our site, please contact Frieda via email.
You may also be interested in...