Margalit Art: Modern Art Reimagined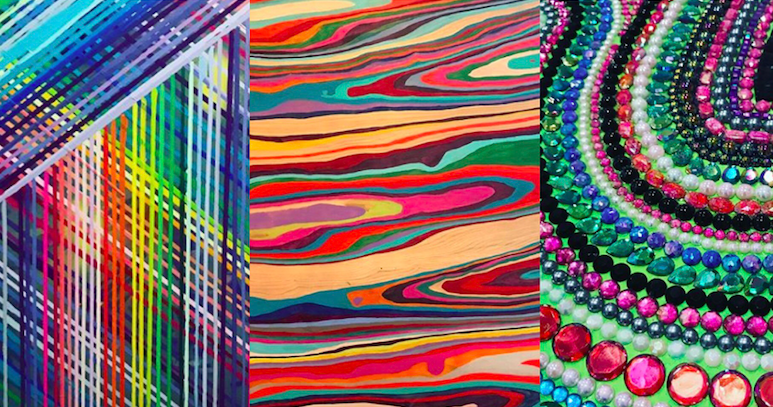 How can modern drip art look precise and yet organic at the same time? As it turns out, tons of practice and a lot of trial and error.
Margalit Romano started creating and selling her works of art about five years ago when a friend asked her to fill in for her and make a few paintings for a new restaurant. Little did Romano know this would be the start to her colorful new career.
A painting done by Margalit using the drip-paint method.
Since that day, when someone outside of her regular social circle bought her painting off a wall in a restaurant, Margalit knew this was something she was officially going to pursue. She then titled her business Margalit Art. This busy mother of three loves her unique job and puts her heart and passion into everything she creates.
Margalit's mother recalls her always having a creative spirit. When Margalit was a young girl, she would make patterns in the sand on the beach that always impressed her mother. They recently understood that this foreshadowed her future career as an artist that loves to create patterns.
One of Romano's works of art in progress.
Margalit describes her unique style of art as colorful, multimedia, and, most of all, fun. She loves to experiment with all types of mediums and tools to create her one-of-a-kind works of art. Each item Romano creates is unique because she makes them all by hand. Margalit is a self taught artist who gets inspired by many different forms of expression. Fashion, Margalit pointed out, is, at times, a big inspiration-factor for her.
A textured piece using acrylic roses by Romano.
Texture and things that physically pop out of a painting are typically found in many of her pieces. Unlike most museums or artists, Margalit encourages onlookers to touch and feel certain pieces of her art. Her Flora series, for example, is a whimsical collection of floral paintings strongly constructed. This was done so that onlookers can touch all they'd like, making the art a more interactive experience without the fear of damaging it.
Although Margalit gets many custom orders, she makes sure to also take time to create pieces she loves. She creates Challah boards and serving pieces as well as wall art on canvas, and murals.
Romano's art installation at Urban Pops located in Allenhurst, NJ.
An awesome example of her wall art skills is when Margalit Art teamed up with Urban Pops for a colorful collaboration! Sophia Cohen of the beloved ice-pop company contacted Margalit to bring some vibrancy and fun into her pop shop located in Allenhurst, NJ. Margalit went to work creating a masterpiece on the store wall.
Sophia also knew she wanted something made that would incorporate popsicle sticks. Margalit decided she would cover the whole register and ice cream counter in hand painted rainbow colored popsicle sticks. Customers loved the colorful and creative additions to the shop. Later, Urban Pops hired Margalit again to design two other locations.
"I absolutely loved working with Sophia, she's fun, creative, and has an amazing energy that made the experience a pleasure," said Margalit of her collaboration with Urban Pops.
A lucite pop-art piece by Romano.
Margalit has also made art pieces for classrooms in the DSN community center located in Oakhurst, NJ. On April 17, Margalit will be hosting an interactive art class at DSN. All of the profits will benefit the DSN Children's Scholarship Fund. This is an awesome initiative put in place by DSN to assure everyone can enjoy the programs, activities, events, and more regardless of their financial standing.
The art Romano is preparing for the class to create is a two-layered lucite project. The lucky attendees will receive all of the tools and materials they need to do the job as well as hands-on instruction from the artist herself. When registration opened up for this class, it got completely booked up in just 20 minutes!
On April 19 through April 22, Margalit Art will be featured in the Art Expo at the Javits Center in NYC so be sure to check that out.
To see more mesmerizing art, check out Margalit on instagram @Margalitart.
Frieda Schweky is Sephardic.Org's official community events reporter. For inquiries and to get involved with our site, please contact Frieda via email.
You may also be interested in...