UN Secretary-General António Guterres to Visit Israel in August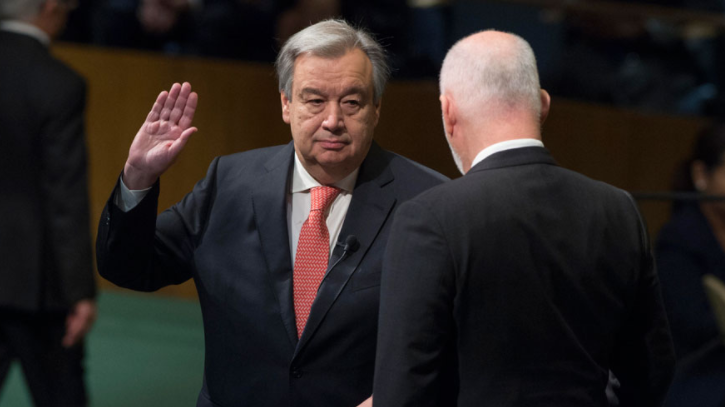 Pictured Above: António Guterres, Secretary-General-designate of the United Nations, takes the oath of office for his five-year term, which began on 1 January 2017. The oath was administered by Peter Thomson, President of the 71st session of the General Assembly. UN Photo/Eskinder Debebe
(JNS.org) United Nations Secretary-General António Guterres will visit Israel in August for his first trip to the Jewish state since assuming the leadership of the world body.
Guterres will meet with Israeli Prime Minister Benjamin Netanyahu and President Reuven Rivlin, receive briefings from senior security officials, and visit Israel's Yad Vashem Holocaust remembrance center.
Israeli Ambassador to the U.N. Danny Danon, who will accompany Guterres during the visit, said he is "looking forward to showing [Guterres] the true Israel, which is an island of prosperity and stability in the tumultuous Middle East."
"Particularly because of the U.N.'s discriminating treatment of Israel, it's important for the secretary-general to see the complex challenges Israel is dealing with up close, along with its great contribution to the world as an innovative and groundbreaking country in many fields," Danon added, Yedioth Ahronoth reported.
In early June, Guterres expressed concern over Israel's "occupation" in the disputed territories on the Gregorian calendar's 50th anniversary of the start of the Six-Day War. But Guterres has also condemned critics of Israel as anti-Semites and affirmed Jerusalem's Jewish roots.
You may also be interested in...