Netanyahu's Cabinet Approves Huge Projects for Jerusalem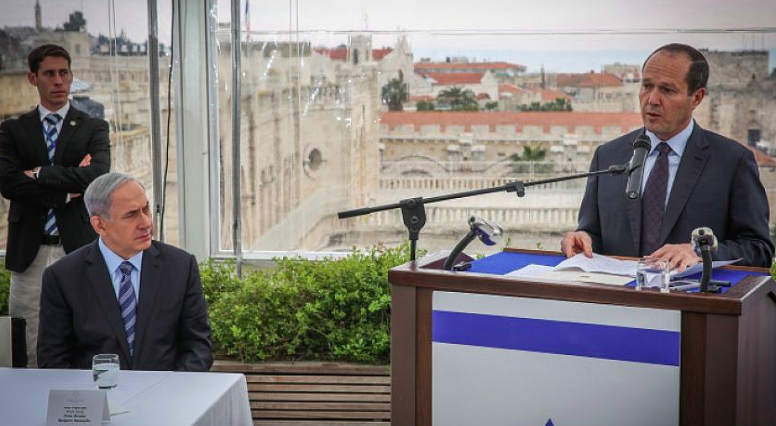 Pictured Above: Israeli Prime Minister Benjamin Netanyahu and Jerusalem Mayor Nir Barkat hold a press conference at the Mamila Hotel in Jerusalem on Feb. 23, 2015. Photo by Hadas Parush/Flash90.
(JNS) A series of new programs aimed at "deepening sovereignty" in eastern Jerusalem and investing in all sectors of the city were passed on Sunday at a festive "Jerusalem Day" cabinet meeting held at the Bible Lands Museum.
The meeting was held on the anniversary of the liberation of Jerusalem from Jordanian occupation during the Six-Day War in 1967.
Approved proposals include plans to formalize land ownership claims in eastern Jerusalem, the inclusion of Jerusalem's Arab schools in the Israeli school curriculum, developing and expanding Jewish neighborhoods and projects in Jerusalem's historic Old City and Mount of Olives, and the creation of a cable car that would take visitors from West Jerusalem through the Mount of Olives to the Dung Gate at the walls of the Old City.
The cost of the projects is estimated around NIS 2 billion ($560 million)
Prime Minister Benjamin Netanyahu told the ministers that the investment was mean to "build up and develop Jerusalem—east and west, north and south, in all directions—to both reveal its path and build its future."
" It is not for nothing that we are marking 'Jerusalem Day' today at the Bible Lands Museum . Jerusalem is mentioned in the Bible approximately 650 times," said Netanyahu. "The reason is simple—for over 3,000 years it has been the capital of our people and only of our people. We dreamed of returning to rebuild it, the city that is joined together—this is exactly what we are doing today ."
You may also be interested in...