Netanyahu Tells Iranians he can Save them from Drought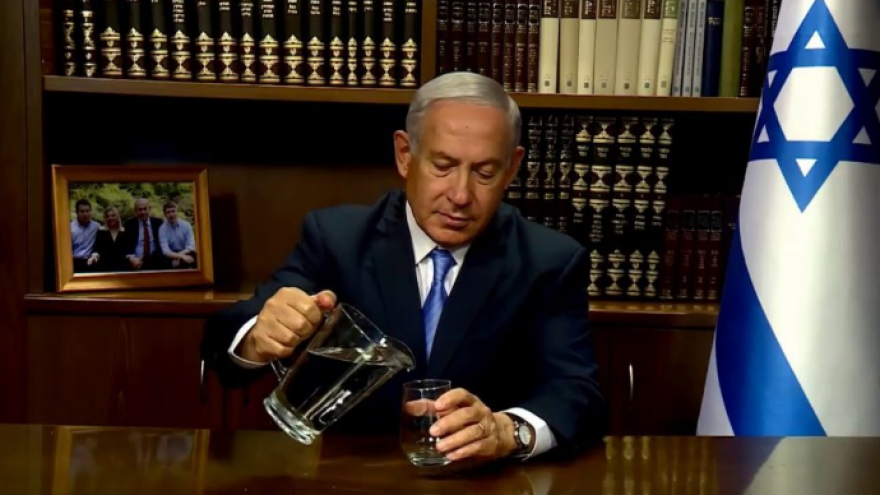 Pictured Above: Israeli Prime Minister Benjamin Netanyahu tells Iranians that despite their theocratic regime's hatred of Israel, the Jewish state will create a website teaching farmers to recycle wastewater to save the country from severe drought. Source: screen capture.
(JNS) In a video clip posted to Facebook with Farsi subtitles, Israeli Prime Minister Benjamin Netanyahu reached out to the Iranian people, offering to help them solve the problem of drought that is plaguing the country.
Pouring a glass of water for himself from a full pitcher on his desk, Netanyahu detailed his plans to launch a Farsi website teaching Iranian farmers to recycle wastewater for agricultural use.
"Today, I'm going to make an unprecedented offer to Iran. It relates to water. Israel stands with the people of Iran, and that is why I want to help save countless Iranian lives. Here's how," he said.
He blamed Iran's theocratic regime for "mismanagement, incompetence and the theft of vital resources" that has led officials to warn that tens of millions of Iranians could be forced from their homes due to environmental damage and drought.
"Now, Israel also has water challenges," said Netanyahu. "We've developed cutting edge technologies to address them. Israel recycles nearly 90 percent of its wastewater. That's far more than any other country on earth."
"Israel has the know-how to prevent environmental catastrophe in Iran," he continued. "I want to share this information with the people of Iran. Sadly, Iran bans Israelis from visiting, so we'll have to get creative."
He pledged to start a website that will "show how Iranian farmers can save their crops and feed their families."
"The Iranian regime shouts 'Death to Israel,' " said the Israeli prime minister. "In response, Israel shouts 'Life to the Iranian people.' "
"The people of Iran are good and decent," he said in conclusion. "They shouldn't have to face such a cruel regime alone. We are with you. We will help so that millions of Iranians don't have to suffer."
You may also be interested in...