New Kosher Ice Cream Shop, Coney Waffle, Takes Jersey Shore by Storm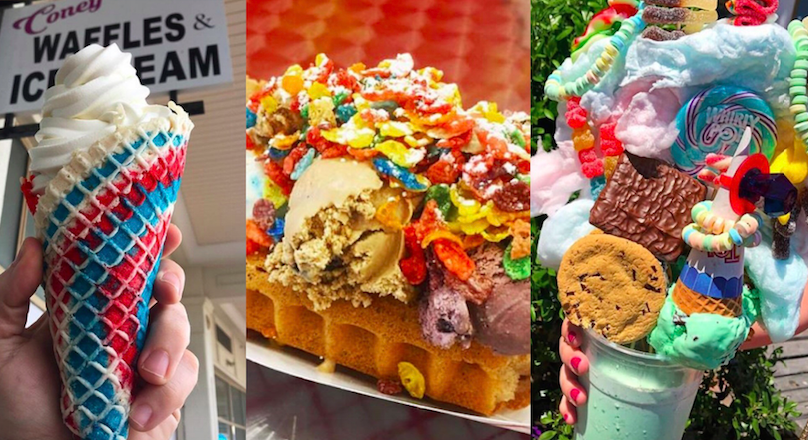 A new ice cream shop deemed Kosher by the JSOR has opened up at Pier Village in Long Branch, NJ just in time for the Summer season. Coney Waffle's unique circus style treats are making waves in its new beach town location. With over 50 ice cream flavors, original handmade cones, and an endless amount of sweet toppings, this place is flooded daily with hundreds of customers eager to get their hands on some trendy sweets.
This Instagram user's paradise has a rich family history that has been kept up with the name, menu, and decor of the shop. Coney Waffle originated in Brooklyn, NY in 1946 on the famous Coney Island Boardwalk. The proprietor of Coney Waffle, Joseph D'esposito's grandmother used to sell waffles and ice cream to Coney Island's carnival and beachgoers alike.
If you're wondering what is so special about an ice cream shop opening, you clearly haven't visited Coney Waffle yet.
"We come up with these crazy concepts and create them with Ice Cream," said D'esposito of his shop's original sweet treats. "Our Ice Cream creations are pieces of edible art. Very colorful, designed to be aesthetically pleasing and also delicious."
One of the hottest food trends to date in desserts is the freak shake. These large outlandish creations are constantly boasted all over social media and if you'd like to get your hands on a Kosher one, Coney Waffle is the place to go. Their freak shake, or Sideshow Shake as they call it, is a 32-ounce milkshake. The shake is topped with waffles and ice cream, cotton candy, an ice cream cone, ice cream sandwich, chocolate covered pretzels, various gummy candies, a ring pop, and a candy necklace. Although this may sound like an instant trip to the dentist, Coney Waffle whips up over 100 of these mega shakes everyday!
Another original treat they are famous for is their Coney Waffle. This menu item is made with their patented style waffle. It's shaped like a hot dog bun and filled with scoops of ice cream. Since they are the creators and have the cone patented, they are the only ice cream shop able to serve this style. It eliminates the need for a bowl and spoon. You can eat it like a hot dog with your hands which means zero waste. You can also walk and eat it which is ideal for the shop's boardwalk and beach settings.
With even more unique and unbelievable creations like their rainbow and tye-dye waffle cone, tacos and taquitos, galaxy cones and liberty bowls, all of which they invented, it's no wonder why the media has taken notice. Coney Waffle has been featured on the Travel Channel's Food Paradise and Vineland's Ice Cream Show. It was also featured on Buzzfeed, Food Network, Insider Food, Delish, and Cosmopolitan to name a few!
Coney Waffle's first brick and mortar shop opened its doors in Belmar, NJ in 2016. Since then, they have expanded vastly to five different locations along the Jersey Shore. Their stores are located in densely populated vacation spots such as the Asbury Park Boardwalk, Belmar Beach, Red Bank, and the beautiful Pier Village in Long Branch. After a successful opening in Summer 2017, Coney Waffle opened a second Pier Village shop called Coney Italian Ice. Coney Italian Ice is vegan, gluten-free, fat-free, peanut free, tree nut free but, most importantly, delicious!
Both Pier Village locations are Certified Kosher by the JSOR. So pay this establishment a visit and make sure to snap a picture before digging in!
For more dazzling dessert pictures, check out Coney Waffle on Instagram @ConeyWaffle and @ConeyItalianice or head into their stores to taste the rainbow!
Frieda Schweky is Sephardic.Org's official community events reporter. For inquiries and to get involved with our site, please contact Frieda via email.
You may also be interested in...