Over 1,000 Supporters Attend OHEL's 49th Annual Gala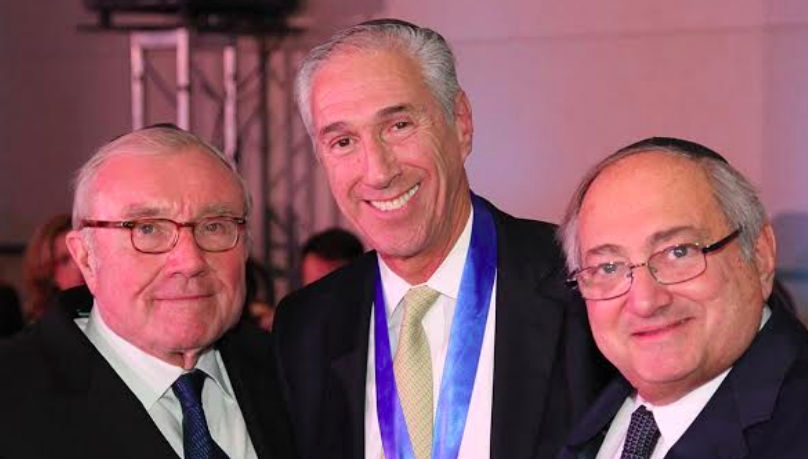 At OHEL's 49th Annual Gala at the Sheraton Hotel, New York, a capacity crowd of OHEL's ardent friends and supporters celebrated the achievements of Honorees who truly encapsulate this year's theme, Opening Minds, Opening Doors. This show of support is graciously appreciated by individuals, organizations and the corporate world, who passionate embrace OHEL's mission to reduce stigma, and meet the ever increasing and diversity of needs, serving over 11,000 people in need, throughout communities in New York, and beyond.
Harvey A"H and Gloria Kaylie were awarded the inaugural Harvey and Gloria Kaylie Community Impact Award, presented by their daughter Alicia in recognition of the trailblazing inclusive camp that is Camp Kaylie at OHEL - that Harvey A"H had always conveyed was his "crown jewel."
So too, OHEL celebrated the impact and continued impact, of Harvey A"H and Gloria Kaylie on the broader Jewish community in the US and in Israel. Rabbi Marc Schneier of The Westhampton Synagogue said, "The Kaylie's have taught us both how to give, and how to give happily." Harvey was fond of saying that he and Gloria wanted to teach their grandchildren's grandchildren the meaning of charity. This was touching affirmed in a moving tribute video, where their grandson Lavee Yacoby, shared his commitment to building on his grandfather's legacy and values, by continuing to do and give in helping others in need.
OHEL also honored Eli and Linda Gottlieb as OHEL's Nediv Lev Awardees. The Gottlieb's are passionate advocates of OHEL's most vulnerable individuals with their dedication of family therapy rooms in OHEL's Foster Care program and their continued support for the many other vital services that OHEL provides.
Jenny and Barry Horowitz were presented the Professional Leadership Award. The Horowitz's and their family devote themselves to helping others both on a personal and professional level. From their chosen careers in social work and physical education, the Horowitz's vast impact in the community forever endears them to all who know them.
The theme of the evening was encapsulated in a new OHEL video "Opening Doors" that was shown at the Gala. The video personifies the many new and diverse doors now open at the new OHEL Jaffa Family Campus in Flatbush. Doors where on entering people, young and senior, facing diverse challenges, can literally transform their lives – with the professional help of over 1,200 OHEL employees.
The evening concluded with the installation of Jay Kestenbaum as OHEL's new Co-President alongside Mel Zachter, and a powerful tribute to Moishe Hellman, OHEL's outgoing Co-President.
OHEL recognized and celebrated Moishe's incalculable impact on OHEL and the thousands of lives he has helped shepherd through OHEL's Open Doors as Ombudsman, a vital role he will continue as President Emeritus. For 26 years, Moishe Hellman has been a leader and visionary together in partnership with Co-President Mel Zachter, and a very engaged and supportive Board of Directors.
OHEL is always pleased to welcome to the Gala distinguished elected officials whose support expands the services provided to families in many communities. NYS Comptroller Tom DiNapoli, State Senator Todd Kaminsky, Councilmembers Chaim Deutsch, Kalman Yaeger and Mathieu Eugene amongst others addressed the assembled guests.
OHEL's Co-Presidents Mel Zachter and Jay Kestenbaum announced a One Million Dollar Challenge Grant inviting guests and all OHEL supporters to contribute to expanding OHEL's vital work in Trauma and Children's Services. These ground-breaking services will ensure that OHEL remains at the forefront of providing the highest caliber professional services. Please contact Robert Katz at robert_katz@ohelfamily.org for more information.
OHEL looks forward to greeting everyone next year at OHEL's landmark 50th Anniversary Gala to honor and celebrate builders of OHEL's past and future.
To support OHEL's important work or to access OHEL services, please visit http://www.ohelfamily.org, call OHEL Access at 1800-603-OHEL or email access@ohelfamily.org
Shelly Forman is currently serving as editor-in-chief of Sephardic.Org. Shelly curates the content that comes through to Sephardic and makes sure that each and every article, video, and image on the site goes along with our amazing mission statement.
You may also be interested in...