Third Annual DSN Family Hanukkah Party Welcomes Over 600 Attendees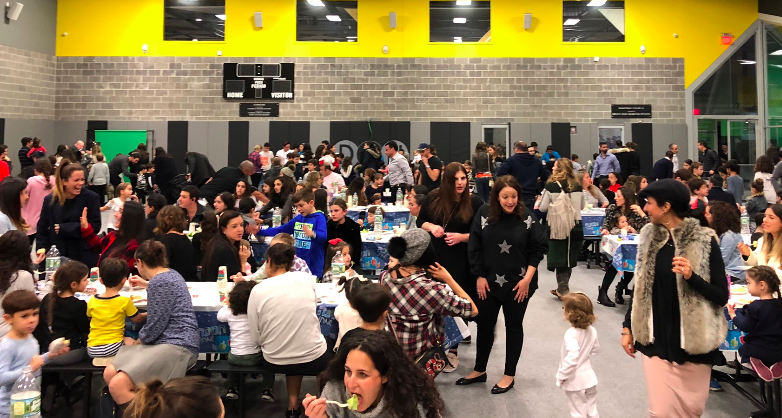 Every year since the DSN community center opened its doors to their new facilities, they have invited the greater shore area community and their families to many outstanding events. On Monday, Dec. 18, DSN held their third annual Hanukkah party on Dec. 18.
Members and non-members of the community center were welcomed to join in on some well deserved holiday fun at this amazing party. The event was free for members and $36 for a non-member family. This joyous occasion of unity was enjoyed by all who attended.
Rabbi Saul Kassin starting off the DSN Hanukkah Party.
The event was started with Rabbi Saul Kassin lighting the Menorah and singing hanukkah songs with the children who attended. Rabbi Kassin also gave a short Divrei Torah before the party officially began.
Rabbi Kassin and a young boy lighting the Menorah before the games began.
Over 600 people were in attendance this year, an even better turn out then last year's party. A huge game of Bingo was played by all of the children who attended. There was also a guess how many Dreidels are in the jar contest as well. Winners of the games played at the event were given a choice of an array of prizes including an Apple iWatch, iPad, blue tooth speakers, a motorized scooter, amazon gift cards, and more!
Some of the prizes available to all game winners at DSN's Hanukkah event.
Grand Prizes of the night including a motorized scooter and $50 gift card to Amazon.
There was a menorah arts and crafts station and a cupcake decorating station for the children to enjoy as well. A community member also donated hats and gloves which were sold at a bargain for $5 a piece for the sibling gift shop! All funds raised from the party are being put in the DSN Children's Scholarship Fund to raise money for families who can't afford membership to the center and put their kids in certain DSN programs.
Catered dinner by Nicole's Kitchen being enjoyed by all who attended.
Nicole's Kitchen catered the night's dairy dinner. There was delicious pasta, salads, desserts, and more. Donuts were served to the attendees as an oily reminder of the miracle of Hanukkah! DSN hosts this once a year to bring the community together in one place at one time to celebrate the holiday and be united.
Children playing bingo at the DSN Hanukkah party.
With all of the new families moving to the Jersey Shore area, DSN is a nice place to get acquainted with the new community members. It's a night of inspiration, unity, and most of all, fun. DSN really loves to show the children of the community a good time and anyone who attended the event would agree that the night was a success.
DSN has an amazing indoor playground which was opened to the children who attended during the party. There was also a photo booth with a Hanukkah background and various costumes for the eager party goers to try on and have fun with. The night was really memorable and DSN looks forward to planning the next one.
Frieda Schweky is Sephardic.Org's official community events reporter. For inquiries and to get involved with our site, please contact Frieda via email.
You may also be interested in...