Trump's Recognition of Jerusalem as Capital Brings US Policy 'Back to Reality'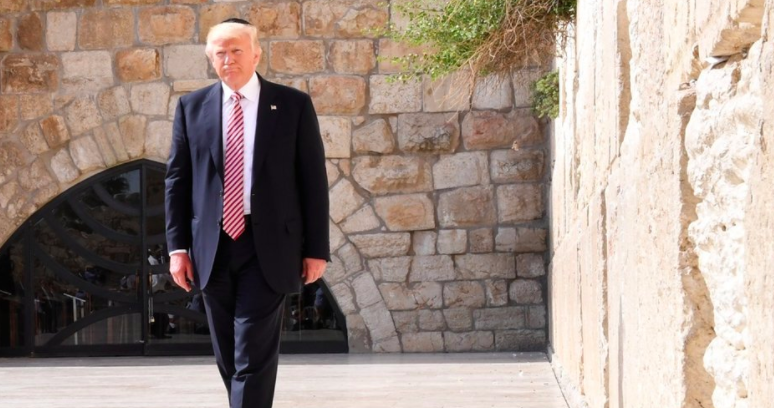 Pictured Above: President Donald Trump visits Jerusalem's Western Wall on May 22, 2017. Credit: Matty Stern/U.S. Embassy Tel Aviv.
By Adam Abrams/JNS.org
As President Donald Trump prepared to formally recognize Jerusalem as Israel's capital on Wednesday, enraging the Palestinians, legal experts and U.S. officials downplayed the move, noting that Jerusalem has long been the capital and that Trump's recognition is a simple acknowledgement of reality.
"Israel designated Jerusalem as its capital shortly after the War of Independence in 1949. Under international law, states do not require outside approval for the selection of their capital city," explained Avi Bell, a member of the faculty of law at Israel's Bar-Ilan University and a senior fellow at the Kohelet Policy Forum think tank.
"International law thus views Jerusalem as Israel's capital since that time, whether other states choose to recognize that fact or not," said Bell, who lauded the Trump administration for "at long last, bringing U.S. policy on Jerusalem back to reality."
U.S. officials who confirmed Trump's policy change on Jerusalem expressed the same sentiment.
The president "views this as a recognition of reality, both historic reality and modern reality," said one U.S. official in a statement used by various media.
"While President Trump recognizes that the status of Jerusalem is a highly sensitive issue, he does not think it will be resolved by ignoring the truth that Jerusalem is home to Israel's legislature, it's Supreme Court, the Prime Minister's residence, and as such, it is the capital of Israel," said another statement from an American official.
Although Trump will recognize Jerusalem as the Israeli capital, the U.S. will not immediately relocate its embassy to that city. Rather, the president will request that the State Department formulate a plan for moving the embassy from Tel Aviv, White House officials confirmed.
The Associated Press reported that during his speech on Wednesday, Trump will make a generic statement about Jerusalem's status as the "capital of Israel," but is not planning to use the phrase "undivided capital," which is typically used by Israeli leaders to affirm sovereignty over eastern Jerusalem.
'No Significance' Legally
Bar-Ilan University's Bell downplayed the legal implications of the Jerusalem recognition.
He said there is "no significance" to the move under international law, as Jerusalem's legal standing as the capital of the Jewish state "remains unaffected by the recognition or non-recognition of other states."
"There doesn't seem to be any legal significance to the U.S. recognition of Jerusalem under domestic U.S. law either," Bell said.
International Precedent
"Russia recognized Jerusalem as Israel's capital several months ago," noted Bell, who believes that U.S. recognition of Jerusalem may cause other countries to make similar moves.
In April, the Russian Foreign Ministry said it views "west Jerusalem" as the Israeli capital rather than the entire city, prompting a cautious response from Israel that it was "studying" Moscow's position. Also this year, Jerusalem was recognized as Israel's capital by the Pacific island nation of Vanuatu and the Czech Parliament.
"[Trump's decision] may embolden other states to take the plunge," Bell said. "However, it seems that most if not all European and Muslim countries will continue to pretend that Israel's capital is somewhere other than Jerusalem; some, of course, will continue to pretend that Israel does not exist at all."
Ahead of Trump's announcement, the U.S. president spoke with Jordan's King Abdullah to inform him of the American policy change.
"[This] will have serious implications for security and stability in the Middle East, and will undermine the efforts of the American administration to resume the peace process and fuel the feelings of Muslims and Christians," Abdullah warned.
Trump faced pressure from other Muslim and world leaders to reconsider his move on Jerusalem.
Turkish President Recep Tayyip Erdogan called recognition of Jerusalem as Israel's capital a "red line" that would force Turkey to cut off relations with the Jewish state, while Ahmed Aboul-Gheit, head of the Arab League, warned of "repercussions" if Jerusalem policy changes are made. French President Emmanuel Macron said the status of Jerusalem should be determined through negotiations.
Palestinian Rage
After Trump informed him of America's intentions on Jerusalem, Palestinian Authority (PA) President Mahmoud Abbas responded that the "firm" Palestinian position is that "there is no Palestinian state" without eastern Jerusalem as its capital, the PA news agency Wafa reported.
Meanwhile, the PA-ruling Fatah party and the Hamas terror group announced three "days of rage" in Jerusalem, the disputed territories and Gaza over Trump's decision.
Israel prepared for a potential eruption of Palestinian violence amid the U.S. announcement, with the Shin Bet security agency, Israel Police and other Israeli security forces convening to assess the situation and prepare for riots and terror attacks.
The U.S. State Department ordered government employees to avoid Jerusalem's Old City and the disputed territories due to expected Palestinian violence. Additionally, the U.S. instructed its diplomatic missions in the Middle East to raise their level of alertness over possible reprisals against American institutions in the region.
You may also be interested in...