Turkey to Open Embassy in Paraguay After Policy-Reversal on Israeli Capital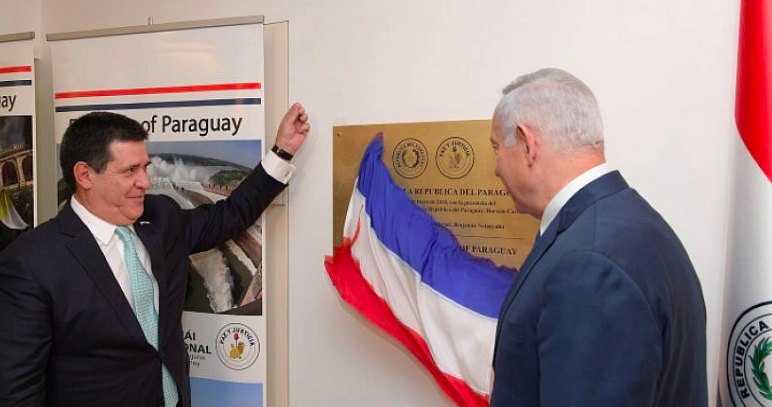 Pictured Above: Israeli Prime Minister Benjamin Netanyahu and President of Paraguay Horacio Cartes (left) at the official opening ceremony of the Paraguay embassy in Jerusalem on May 21, 2018. Photo by Amos Ben Gershom/GPO.
(JNS) Turkey will open an embassy in the city of Asuncion in Paraguay, the South American country announced on Thursday, following current Paraguayan President Mario Abdo Benitez's reversal of the decision by the previous administration, led by President Horacio Cartes, in May to relocate its embassy in Israel to Jerusalem from Tel Aviv, where it will return.
By opening the embassy, Turkey is condoning Paraguay's latest stance on Israel, Paraguayan Foreign Minister Luis Castiglioni told reporters.
Castiglioni said he expected to meet with Turkey this month at the U.N. General Assembly, according to Reuters.
U.S. Vice President Mike Pence called on Benitez on Wednesday to reconsider the decision to undo his predecessor's move.
Israeli Prime Minister Benjamin Netanyahu responded to the reversal on Wednesday by ordering Israel's embassy in Paraguay to be closed.
"Israel views with utmost gravity the extraordinary decision by Paraguay, which will cloud bilateral relations," the Israeli Prime Minister's Office said in a statement.
You may also be interested in...