Mini Asparagus Puff Pastry Squares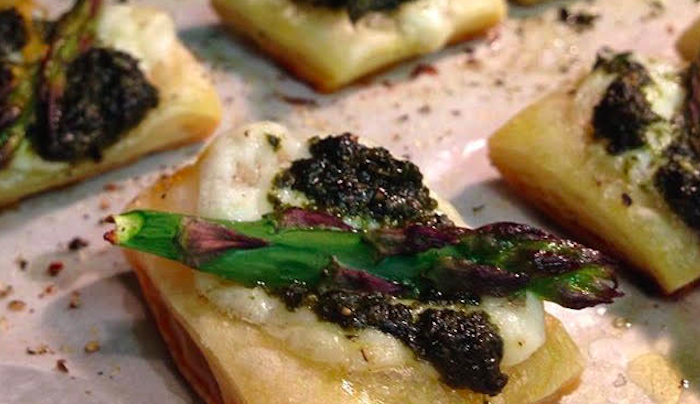 I don't always eat asparagus, but when I do it's with Italian cheese on a puff pastry! Here is an easy recipe for an awesome Hors D'oeuvre!
Ingredients:
1/2 Package of 36 Puff Pastry Squares, cut into 4ths
1 Large bunch of Asparagus
8 oz. of Italian Mascarpone
8 oz. of Pesto
Zest from 1 Lemon
Fresh Thyme, stems removed
Extra Virgin Olive Oil
Freshly Cracked Salt and Pepper
Directions:
Start by cutting the chilled Puff Pastry Squares into fourths. A large chef's knife is best for this job.
Preheat oven to 375 degrees.
To prepare the Asparagus, carefully cut the head of the spear in half lengthwise. The head of the asparagus should be able to lie flat on top of the square.
Prick the squares with a fork all over to reduce excess puffing of the pastry.
To assemble, spread about a quarter size ball of Mascarpone cheese onto the square. You may need to dollop and wait for it to soften a bit to continue spreading.
Top with an even amount of the Pesto.
Press the halved asparagus spear diagonally across the square. Press it into the cheese so it does not fall off during baking.
Add a bit of Lemon Zest and Thyme to each square.
Drizzle Extra Virgin Olive Oil and crack Salt and Pepper evenly across all the squares.
Bake for 12-15 minutes. Squares will be ready when they start to turn golden brown on the bottom.
Hannah Levy is a food blogger who truly lives to eat. Mrs. Levy hosts many cooking classes at SBH's Food Pantry as well and loves to share her love of food with others for a good cause.
You may also be interested in...